Senior School
While the VCE examinations continue for a few weeks yet with the last examination for our girls being on Monday of next week, this past week our Year 10 and 11 students have also commenced their own CGGS set examinations.
After a week on Camp the Year 9 and 10 students and the staff who accompanied them, were grateful for the long weekend. Since returning to school they have all excitedly shared their experiences and reviews of the camps are included later in this edition of CamNews.  Many thanks to all the staff who accompanied the students on their camps, to the Outdoor Education Group (OEG) leaders who run the programs and to Mr Shane Maycock, Deputy Head of Senior School – Co-curricular Programs for his tireless efforts to ensure all the students undertook new and challenging experiences as part of their Education Outdoors journey at CGGS.
On Monday 11 November we were fortunate to have historian Mr David Howell join us in a special Remembrance Day Assembly. Mrs Karin Lemanis also presented our successful National History Challenge Award winners with their certificates. While Alisha Wong was presented with her 3rd place award for the Youth Bilingual Speech Conference.
Today we welcomed 20 new students who will commence in Years 8 – 11 in 2020. Their Orientation morning included a welcome from our Principal, Debbie Dunwoody as well as information sessions conducted by Kate Manners, Deputy Head of Senior School – Teaching and Learning, Nirvana Watkins, Deputy Head of Senior School – Student Wellbeing (Programs and Curriculum) Felicity Carroll, Digital Literacy Co-ordinator and myself. The Year Level Coordinators for 2020 and a number of host students also joined the girls for an informal morning tea in the library. Our new students also enjoyed meeting Ivy our library therapy dog.
Last Friday we also had the pleasure of welcoming a total of 99 new and current families to the Year 7 2020 Orientation Day. Murrundindi started the formalities with a lovely Welcome to Country which was greatly appreciated by all and it set the tone for a fabulous day. A number of staff and many of the newly announced School and House leaders spoke to the girls and their families throughout the morning, explaining many of the processes and offerings at CGGS and also some very helpful tips from one of our School Counsellors, Paula Kolivas for parents on what to expect during the transition to Senior School. The girls spent most of their day with their Year Level Coordinator, Mrs Nirvana Watkins and Tutor teachers for 2020, 7B Mat Duniam and Tuba Ozak who filled in for Helen Creed who is currently on Long Service Leave, 7P Lauren Law and Tom Clark, 7T Maria Yevlahova (introduced to the group as Maria Litchfield) and Lisa Stevens, 7W Jen Gordon and Ingrid Beck. The girls loved receiving their locks and learning how to open them in readiness for next year. They also enjoyed sessions of Drama with Jenine Caruso, Science with Anthony Pasinati, Makers Space activities with Belinda Kinnane and Team Games with Shane Maycock and Nareen Robinson. It was pleasing to see all the girls with huge smiles and much to say when they met their parents at the end of the day.
A number of staff and parents had the privilege of attending a Chamber Concert on Wednesday afternoon. The magnificent musical ability of the Trio, Quartets and Quintet was evident in one of the most breathtaking performances.  We are in the privileged position here at CGGS of having access to amazing performers and the opportunity enjoy performances which many would gladly pay to experience.  I remind all members of the school community that you are always welcome to attend the musical performances, even if your daughter is not performing, and indeed I strongly encourage you to do so.
Digital Wellbeing 
We are continuing to involve members of our CGGS community as we examine the data collected from our Digital Wellbeing surveys. This week Mrs Cathy Poyser, Deputy Principal / Head of Senior School; Ms Nirvana Watkins, Deputy Head of Senior School – Wellbeing Curriculum and Program; Ms Emma Hinchliffe, Deputy Head of Junior School – Teaching and Learning; and Ms Felicity Carroll, Digital Literacy Co-ordinator JS and SS, met with parents who expressed an interest in participating in our Parent Digital Wellbeing Focus Groups within their survey responses. We thank these parents for joining discussions about our community's technology usage and the implications for our School and families. We are in the process of devising initiatives for 2020 and these will be communicated in future CamNews articles. 
The previous Digital Wellbeing CamNews article focussed on screen time and presented evidence-based strategies for fostering positive online experiences as part of a balanced lifestyle. One strategy that families may wish to consider is establishing agreed family guidelines, or what is often called, a Family Media Agreement. There are many examples available online, with the most effective agreements being those in which children and teenagers establish agreed behaviours with their parents. Common Sense Media includes one such example you may find helpful here. Another is by ThinkUKnow, which also provides a template for families to use when creating their personalised agreement. It is widely agreed that establishing these agreed behaviours is most effective when done with children at an early age, but there is still value in exploring their potential benefit with older children and teenagers.
References
Commonsense media. (2019). Family Media Agreement.
Retrieved from https://www.commonsensemedia.org/family-media-agreement
ThinkUKnow. (2019) Parents Portal. Retrieved from https://www.thinkuknow.org.au/parents-portal

Cathy Poyser & Felicity Carroll
FIRST LEGO League
This week, three teams: Robotica, Fireflies and 2025 Girls, a total of 21 girls from Year 6 – 8 competed in a regional final of the First LEGO League competition. This is a global event founded by Dean Kamen, inventor of the Segway and involves more than 200, 000 students worldwide. Teams of up to 10 students complete four challenges in order to compete:
> Innovation Project
> Core Values Poster
> EV3 Robot Design and Build
> Robot Game
All teams demonstrated the six core values of the competition throughout their preparation and during the competition day: discovery, teamwork, inclusion, innovation, impact and fun. There were times when robots didn't follow their instructions and last minute changes needed to be made to presentations, however, the girls showed great resilience, resourcefulness and teamwork. At the end of the day, Team Robotica won the Research Award for their excellent use of the Design Thinking process to develop an innovative solution for the Old Box Hill Brickworks. Team Fireflies were awarded the overall Championship Cup and were particularly impressive in the robot game challenge. Our Year 6 team of novices: 2025 Girls, didn't receive any awards but did manage to outperform one of our Senior teams in the robot game.
On Sunday, 24 November, Teams Robotica and Fireflies will be competing in the National Finals at Swinburne University, Hawthorn. This is a wonderful achievement for the girls. A special mentioned should be made of our two Year 10 assistant coaches, Chloe Langley and Himalini Kathirgamanathan who have supported the girls during the year. Their efforts are greatly appreciated.
Dr Charlotte Forwood
Director of Learning Design and Development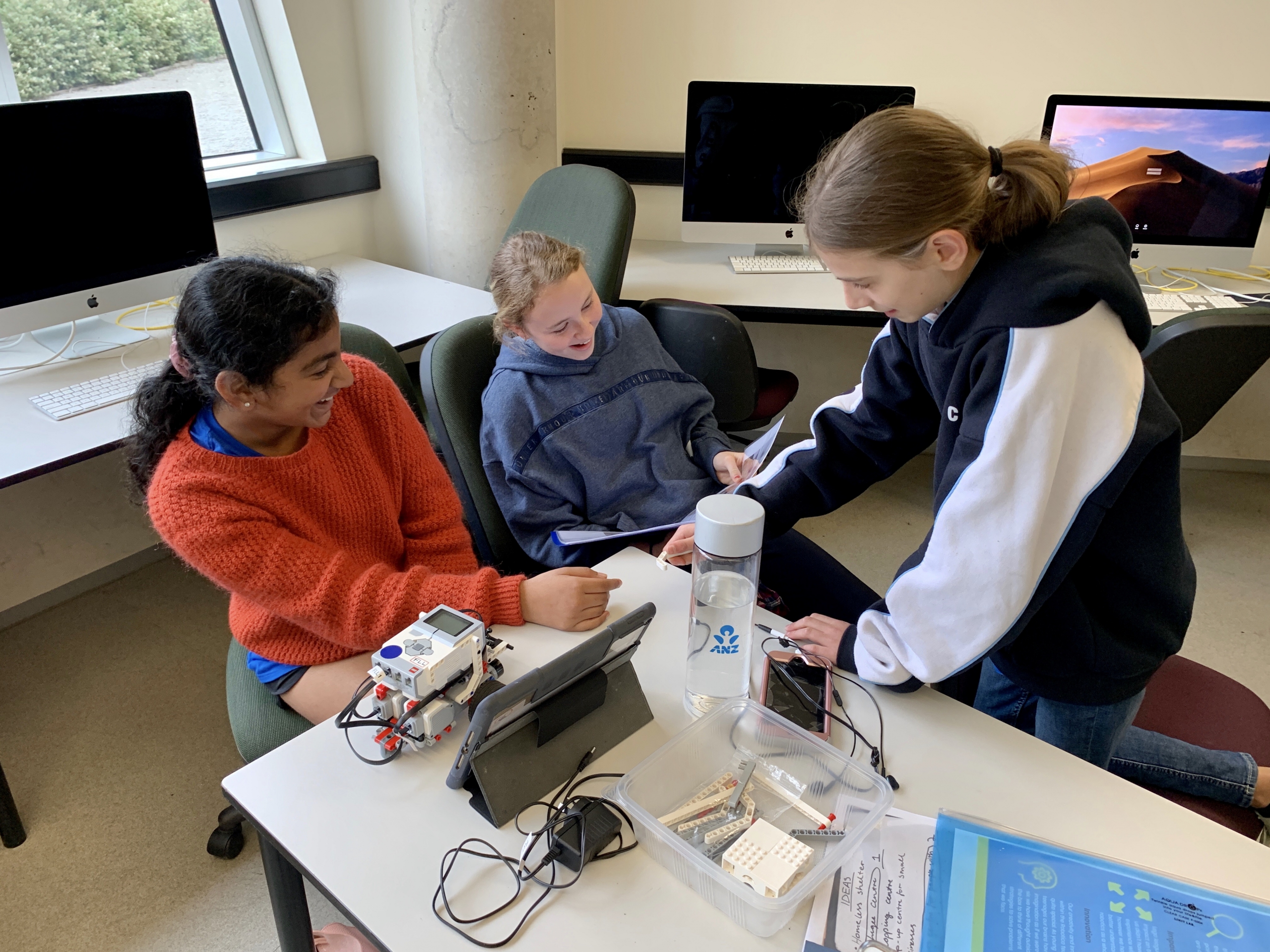 Australian Geography Competition 
The awards and certificates for this year's annual Australian Geography Competition were distributed in Term 4. The competition is open to all Camberwell Girls students from Year 7-10 and those studying VCE Geography. It is a challenging competition that assesses geographical knowledge and skills with an application to a broad range of topics and global events. Well done to everyone who participated.
We are proud to recognise the exceptional achievements of a number of students this year. Congratulations to the following students for receiving High Distinctions:
Year 7
Sophie Chang
Katherine Mason
Katrina Tong
Erica Wang
Minali Shyam
Isabella Wood
Sin (Xixi) Yang
Year 8
Belinda Caruso
Eun Bee McAleenan
Serena Segal
Natalie Chung
Mary Chuang
Sasha Feldmann
Scarlett Giang
Eleanor Summers
Ella Watson
Year 9
Sienna Dulabic
Katrina Xu
Isabelle Viney
Chloe Chan
Alex Polatsidis
Amelia Westerman
Teagan Diep
Abbey Howard
Megan Kuo
Nicole Ang
Bethany Orme
Alice Wilson
Year 10
Zara Mammone
Charlotte Kutey
Chantelle Chuang
Rhi-Ann Lam
Belinda Lemanis
Jacqueline Zhang
Goethe Institut Enterprise Program
This year our Year 10 German students participated in the Goethe Institut's Enterprise Program which promotes the collaboration between schools and German companies / or Australian companies with a relationship to German speaking countries within the region. The project combines aspects of professional orientation with creativity and inventor spirit.  
We are very pleased to share the wonderful success that Annaliese Cossenas, Charlotte Kutey and Amy Du achieved. The girls were awarded second place for submitting one of the most innovative business ideas pitched by students from 96 schools across Australia. Their project 'Heimat durch die Leica Linse' ("Home" through the Leica Lens), has Leica camera owners sharing the first photograph taken on their camera and then a selection of these photographs chosen for an exhibition in the Leica gallery; "for the people, by the people." Their project was commended for its design and creativity.
The Goethe-Institut Australian invited the students to the Award Ceremony in Sydney on 8 November, where the most interesting and innovative ideas were presented. 
Student representatives from various schools presented their ideas and took part in a Q&A session with teachers and representatives of the partner companies, the German Embassy and the German-Australian Chamber of Industry and Commerce.
Special thanks to Ms Liesa Winkler for working with the girls on this initiative.
Dante Alighieri
During Term Three Ella Barmby of Year 10 was awarded first place in the prestigious Dante Alighieri Poem competition. In preparation for the competition Ella was required to compose her own original poem entirely in Italian. She presented her piece at Melbourne University in front of an audience of 500. Ella has been studying VCE Italian via the Victorian School of Languages throughout the year, in addition to Italian School each Saturday. Ella is to be congratulated on her achievement. This award highlights the immense focus and dedication that Ella has displayed in undertaking her Italian studies this year.
Camp Reflections – Year 9
Arriving in Yarrawonga for the first time was a surreal experience for everyone. We immediately had to adapt to our new environment and say our final goodbyes to air conditioning, toilets and Wi-Fi. It quickly hit us that the next few days would be challenging. What shocked me the most were how many flies could be in one area! Which meant that cooking and eating dinner meant mastering the great Australian art of not accidentally eating a bug!
As someone who regularly over packs, halving what I carried in my pack was definitely difficult. Only bringing two shirts and a couple pairs of shorts was hard as we knew how hot the weather would be, how much sweating would be involved and that there was no option to shower. On top of our personal hygiene and comfort, every morning we would all have to re-pack our bags and carry it for kilometres every day when we hiked.
The activities we had to complete were hiking and canoeing. Personally, I found hiking the toughest and hardest part of the camp. Walking 10km every day in thirty-degree heat was challenging. However, it was the most fulfilling part of the trip. Everyone was so proud when we arrived at the next camp site. No one thought it was possible we would survive and yet we did. Carrying heavy packs when we were hiking in the heat was the cherry on top of the cake as it made every step so much harder!
Having such an amazing group made all the difference to my camp experience. Everyone got along so well and it helped to distract us from the discomfort of the heat, no toilets and no showers.
The canoeing leg was extremely enjoyable, and almost relaxing once we got the hang of it. At the beginning, we were instructed how to pack the canoes and what is the most effective way to paddle. After listening intently in the scorching heat, we were eager to get into the canoes and river to cool down. Once partnering up, we got into the canoes and set off!
On the first day, we canoed around 10km. The first day of canoeing flew by extremely quickly, and before we knew it we were already at our campsite. After setting up camp, we had a lot of free time to spare so a one of our favourite things to do was to play cards. It was so much fun bonding with everyone whilst just relaxing under the shade. On the second day of canoeing, we canoed around 18km, which sounded like a lot, however when we got into a steady rhythm, it was much quicker than it sounded. The third and final day of canoeing was shorter, we only had to canoe 8km. Canoeing overall was a delightful experience, and although we all got sunburnt spending so much time under the scorching sun, it was well worth it.
Before we knew it, the final day of camp came. After washing up the canoes, we unpacked all of our belongings from our packs into our normal bags, loaded them on the bus and set off for home. Year 9 camp was a liberating experience for all of us. It was a truly amazing experience that we will never forget, the life skills and the new friendships that we made will be with us forever. We learnt a lot, made new friendships and made memories to last a lifetime.
Teagan Diep
Year 9
 Camp Reflections – Year 10
To be fair, there is only one word to describe my year 10 camp: amazing! For camp this year, we were able to decide between three options – hiking at Wilsons Promontory, kayaking in the Gippsland lakes or completing the NE cycle trip. I chose the North East cycle trip, where we began in Bright and finished in Wangaratta. We were accompanied by stunning views along our trip, consisting of wineries and the mountainside. In groups, girls pushed their bodies to their limits and achieved more than 113km of cycling over a 3-day period, occasionally in extreme heat. What got us through the challenge put forth to us was the mate ship between the girls. We were always talking and cycling, being encouraging, and laughing with each other. This strong bond that was created is something that will truly be hard to forget. The trip also taught everyone some valuable life skills – whilst there were the hard skills such as how to ride a bike, or set up a tent, the skills of great worth were the soft skills. This was how to work co-operatively in a team, to never leave anyone behind and how to respect one another. The year 10 NE cycle camp was definitely my favourite camp, and will be treasured in my memories for the many years to come.
Sophia Giagoudakis
Year 10
Chamber Concert
On Wednesday 13 November, selected students from Years 5, 7, 9 & 11 performed at the afternoon's Chamber Concert for a very appreciative audience of parents, friends and teachers. This was a wonderful opportunity for our student-driven chamber ensembles to perform for an audience and display their talents and hard work from their many hours of rehearsals. The incredibly high-standard performances included a varied selection of repertoire, from Disney classics to Classical Haydn and Romantic Borodin. The School's harpsichord was also featured in the performance, allowing the Year 7 Combined Quartet to perform in the true Baroque style of Vivaldi.
As well as having the courage to perform for families, friends, teachers and peers, all these students have demonstrated tremendous teamwork and creative collaboration throughout the year. Each has shown the initiative to form their groups and persevered to achieve tremendous growth through the transferable skills of critical thinking and problem solving. Each of these students has set ambitious goals and persisted with sustained passion to produce such high-quality performances. We congratulate all performers for participating in this fantastic event! A very big thank you also to the ensemble directors, Ms Margaret Butcher and Ms Helena Olofsson, for all their hard work in preparation for this event. We look forward to more concerts of this nature at CGGS in the future.

Year 7 Combined Quartet
Kiki Page, Melanie Chin, Emily Price, Clarissa Wong & Isabella Wood, Sofia Sanfilippo, Romy Mead, Bella Fary, Olivia Shen
Year 7 Quartet
Kiki Page, Melanie Chin, Emily Price, Clarissa Wong
Year 5 Quartet
Rida Cao, Maddie Wood, Alyce Law, Emily Lioe
Trio Zoska
Katherine Mason, Sofia Sanfilippo, Zoe Brisk
Quartet Con Brio
Megan Kuo, Nicole Chang, Sarah Hui, Chloe Law
Year 11/9 Quartet
Jennifer Fan, Olivia Banitsiotis, Melissa Xue, Janice Wong
Year 9 Quintet
Teresa Guo, Isabelle Brisk, Teagan Diep, Angie D'Leong, Emily Wu
External Music Examinations 
Term 4 has been a very busy time for many students undertaking external Music exams and Speech & Drama exams. 43 students from Years 2-11 have practiced for many hours and completed their external exams throughout this year and these students have achieved some outstanding results! We congratulate all those who have completed an exam through AMEB, Trinity College London or ABRSM, for their success and their continued dedication to their music, both at school and outside of school.
House Swimming
Last week we announced the winning houses of the House Swimming and Diving Carnivals and now we would like to celebrate the outstanding individual results that were achieved at these carnivals.
There were some exceptional performances in the pool and the following girls should be very proud as they were awarded the Year Level Champion Awards for swimming.
Year 7
1st – Emily Price

2nd – Sophie Chang

3rd – Sofia Sanfilippo

Year 8
1st – Ella Roberson-Brown

2nd – Scarlett Giang

3rd – Xara Anderson

Year 9
1st – Abbey Howard

2nd – Olivia Jones

3rd – Olivia Banitsiotis

Year 10
1st – Belinda Lemanis

2nd – Ella Barmby

3rd – Karen Ng

Year 11
1st – Anabel Car

2nd – Michaela Robinson

3rd – Phoebe Hwong
House Diving
The diving competition was split into two sections, Juniors which consisted of students in years 7 and 8 and Seniors which was students in years 9 – 11. Congratulations to the following girls who received the top 3 individual scores for House Diving.
Junior Individual Champions
1st – Jessica Lim

2nd – Isabella Tremewen

3rd – Ruby Killington

Senior Individual Champions
1st – Ella Robinson

2nd – Tilly Dunn

3rd – Emily Arvidsson
Saturday Netball 
The Spring Fling Saturday Netball Competition is getting close to finals and CGGS teams have done well this season with several teams playing off for first place on the ladder.
Many teams had wins last Saturday, including Year 7 Quartz who are sitting in first place on the ladder.  This team have had a very successful season and should be proud of their efforts throughout the year. Year 7 Pearl had a tough match against Strathy Sapphires, with the teams even at half time with only a couple of goals in it.
Year 8 Sapphires and Silver were very keen in their match against each other, with Sapphire defeating Silver in the end. Year 8 Jade were down against Koonung Comets but Jade played a fantastic second half and defeated Koonung Comets 13-12.
Year 9 Aquamarines were too strong MLC Aviators, defeating them 22-14. Year 10 Gems had a close game against Ruyton Roadrunners, but Ruyton were more consistent throughout the whole game.
Year 11 Tanzanites drew to MA Flame 12-12, the CGGS team played well and if there was a couple of more minutes of play, Tanzanites would have gotten the win. Year 11 Emeralds were defeated by Fintona Flames 15-12, Emeralds played well and gave it their all but Fintona were too strong on the day.
Congratulations goes to all CGGS netball teams, and best of luck in the next coming rounds.
With best wishes,

Cathy Poyser
Deputy Principal / Head of Senior School
https://cggs-video.s3.ap-southeast-2.amazonaws.com/2019/11/IMG_9737-scaled.jpg
1920
2560
cggs
https://cggs-video.s3.ap-southeast-2.amazonaws.com/2021/01/2021_Web_Logo_Cyan.png
cggs
2019-11-15 13:11:15
2020-05-04 08:45:05
Senior School