Senior School
This past fortnight has again seen the Senior School celebrating many final events for 2017. The Year 10 and 11 students have been fully immersed in the HeadStart Program and we thank Mr Mark Corrie, our Director of School Operations and VCE Co-ordinator for his organisation of this program and also the very many staff who have taught the lessons aimed at preparing the students for their year ahead in VCE.
While the postponement of the Summer Spectacular and Carols@Camberwell was a disappointment for all, on Thursday of last week both the Junior and Senior School were able to come together and enjoy the Junior Choral and Instrumental Concert and Carols@Camberwell. The stalls that had a particular Christmas theme went ahead and we thank the students for their efforts to make this alternative Spectacular so successful. We were also delighted to have the students from Surrey Hills Primary School join us as planned for the Carols@Camberwell this Thursday. Sincere thanks to all the students and staff for their flexibility in making these alternate events so successful. In particular to our Music Department, under the leadership of Kate Savige and Rohan Mack for their amazing effort to ensure the whole School was able to celebrate together.
Over the past two weeks the Camberwell Girls staff have all been contributing to "The 12 Days of Christmas" whereby we have donated different household essentials each day to support Anglicare. The donations have included items like rice, pasta, toilet rolls, tooth paste, tea and coffee. Alongside this appeal the students and staff have been collecting toys to donate to The Brotherhood of St Lawrence who will in turn distribute to families this Christmas. The generosity and support of others less fortunate than ourselves has truly reflected the School's motto, Utilis in Ministerium.
Senior School Assembly last week was without doubt one that has had a lasting impression on us all. Three of our exceptionally talented musicians from Year 7, Megan Kuo, Sarah Hui and Chloe Law performed the opening movement of Mozart's Eine Kliene Nachtmusik. The entire audience was in awe of this outstanding performance. Our School Captains for 2018, Lydia Baird, Molly Ewens and Sarah MacKinnon then introduced the theme for the day, "Diversity and Inspiring Women". Each year the Captains bring their own flare and style to the leadership role and it is evident that these 3 leaders are articulate, knowledgeable and keen to make a difference and challenge our thinking.
Tilly Dunn, Upoma Manzur and Erin Joy of Year 9 then spoke about their experiences on Service Learning Week, a time which had clearly made a difference in their lives. They introduced a young man "Ben" who is wheel chair bound having been the victim of a one-punch.  Ben, who is learning to talk again ten years after the incident, is also saving for a stand-up wheelchair which will provide him with more freedom of movement.  Today our students wore free dress and made a donation towards Ben's new wheelchair.
We also celebrated excellence in the Science Talent Search Competition, and acknowledged the most valuable players and coaches awards for the Term 4 GSV Sports. The inaugural House Theatre Sports winners were congratulated and the School Magazine "The Marcian" was presented to Mrs Dunwoody, by the 2017 Editor – Vivian Tang. The Marcian is a wonderful collection of stories, photographs, articles and highlights from the year. We thank and congratulate Vivian and her Committee for their creativity and dedication in capturing the year that was 2017. Year 11 students, Nina D'Souza and Veda Surapaneni, along with Rev Creed, spoke about what Diversity means for them and this lead perfectly into the forum these students then conducted at lunchtime. Please see their article below.
On Friday evening I was honoured to be included as a special guest at the Year 6 Graduation, welcoming the students from Ormiston into our Senior School as the Class of 2023 our Year 7 students for 2018. Throughout this year it has been a privilege to attend their Assemblies and to get to know the students and see them grow in confidence through their leadership opportunities. We all look forward to seeing you in Senior School next year.
This morning we shared a very special Carol Service at St. Mark's Church and it was lovely to share the morning with a number of parents and friends of the School. This was followed by a Form time in the 2018 Form groups, as an opportunity for the students to "Get to Know" their Form teacher for 2018.
Tomorrow evening the Years 7 – 9 students and their families will celebrate together at the Presentation Night at 7pm in the Barbara Sutton Hall. This night recognises the achievements of our students, their high quality work and commitment to our extensive co-curricular programs. Again I extend an invitation to all families to make sure they have tickets booked through Trybooking for this night.
Also to remind all parents that the closing date for Campion book orders has been extended to Friday 15 December.
For anyone families requiring new uniform items for the 2018 year, I would like to make you aware that at the end of this school year our onsite uniform shop will be closing.  With Bob Stewart now managing the supply of our school uniform all purchases should be made through their Kew retail outlet at 201 High Street, Kew.  The staff are able to answer any questions you may have about uniform requirements.
As this is the final edition of CamNews for 2017, I would like to wish all the students and their families and all our Camberwell Girls staff a very happy festive season and safe and restful holidays. It has been a pleasure to have spent time with each and every member of the Senior School in 2017 and I am excited about our plans for 2018!
Diversity
Tuesday 5 December marked the first CGGS Diversity Forum. To us, diversity means we can celebrate all people with disabilities, unique cultures, sexualities, religions, genders and other diverse communities, as well as acknowledging mental illnesses and people from more difficult backgrounds.
We, along with other members of the School community, believe that the issues surrounding diversity are important to bring into the spotlight, as they apply to everyone in the School. For us, especially with the recent same-sex marriage postal vote, we wanted to provide a platform where both students and staff alike had the opportunity to address these issues, voice their opinions and feel accepted. We understand that not everyone shares the same views, and our aim was to create a space where people could feel safe and express their opinions without judgement.
To start off the Forum, a panel of staff and students participated in a diversity discussion, with the focus on the LGBTQIA+ community. As well as the panel at lunchtime, rainbow messages of support were written with chalk in the Woodstock courtyard. Students throughout the School also had the option to wear  rainbow ribbons as a sign of support to those from an array of diverse backgrounds.
We would like to thank everyone on the panel (Mrs Dunwoody, Mrs Poyser, Dr Reid, Beth Sarlos, Paula Kolivas, Alex Sherrin, Molly Ewens, Lydia Baird), those who attended the Forum, those who supported our cause, Pinwheel & Co. for baking delicious rainbow baked goodies ,and most of all Ms Woolcock for advocating for us throughout this journey. We look forward to seeing the CGGS community get more involved in issues regarding diversity and acceptance in the future. ~ Veda Surapaneni and Nina D'Souza, Year 11
Leadership Day
As the end of the year approaches and the senior girls start to prepare for VCE and their captaincy roles next year, the 2018 School Captains held a Leadership Day to help encourage empowerment and collaboration amongst the girls.
We began with a presentation to all of 2018's Year 11 and 12s on leadership and purpose, aimed at inspiring the girls by showing examples of female leaders who had overcome adversity to achieve their goals. These inspirational women included: the hugely successful female tennis player and winner of 39 grand slam titles, Billie Jean King, who used her platform to fight for equal right and pay for women; Gail Kelly, who was the former CEO of Westpac Bank, and was the first women to secure leadership of one of the major Australian banks; and Taryn Brumfitt, an Australian who continues to spread the message of body acceptance and empowerment by founding The Body Image Movement. To us, these three females represented all the characteristics of determination and empowerment that we are striving for as leaders of the school.
We also explored the idea of purpose, and how to use both our strengths and weaknesses to help maximise every second of the approximately 28,000 days that make up our lives. We also encouraged the students to not only be leaders, but also supportive followers, through encouraging them all to spontaneously stand up and dance with us. From here, we led the students into sets of four rotations, promoting the ideas of leadership, collaboration, compassion and creativity.
Some of our 2018 Captains helped to run these rotations, and did an incredible job of stepping into their new roles to help lead and inspire the girls. We'd like to give a huge thank you to:
Sport Captains – Kate Sturzaker and Yasmin Tawfik,
Drama Captains – Sian Stuckey and Nina D'Souza
Service Learning Captains – Ashika Mapa and Isabella Nielson
In regards to the Service Learning activity, we are proud to say that we managed to pack 50 shoeboxes for the Samaritan Purse's Christmas Shoebox Appeal. These boxes will be delivered to disadvantaged children in Asia and the Pacific and will hopefully bring happiness and joy to these children this Christmas.
Overall, the day was a huge success and we would like to thank all the staff and students who were involved and helped make the day run smoothly. In particular we would like to thank Ms Woolcock who helped us to organise and run the day and played a key role in guiding us through our first event in our new roles. The day was a lot of fun and we hope that all of the girls will feel empowered and inspired by their experience. ~ Lydia Baird, Molly Ewens and Sarah MacKinnon
House Theatre Sports 2017
On Wednesday 29 November CGGS introduced a new House Event, House Theatre Sports. What an opening day we had.
All four Houses were amazing and judging was tight as each House played, Death in a Minute, Genre Jump and Diminishing Scenes.
The judges: Nina D'Souza and Sian Stucky, Rev Creed, Ms Lyons and Ms Woolcock awarded points and they found the decisions very difficult…what stars we have within our community.
This event would not have happened if it weren't for some very important people. Special thanks are given to Lucy Van der Arend and Bethany Orme of 7W who have led this group. What a marvellous initiative and we are grateful for your strong and focused leadership.
Thanks go to Kelly Ta, Kelly Liang, Alex Polatsidis, Anna Sakaida and Anastasia Kostantinou for decorating the Drama room for the event. And these students along with, Maya Jones, Alice Hu, Helen Purcell, Ella Smith, Genevieve Herbert, Caitlin Kuo and Upoma Manzur help to collect the props, create the scenarios, and lead the workshops for this very theatrical House Event.
Congratulations to Singleton the winning House for 2018. What an excellent effort.
We also acknowledge Kelly Ta and Polly Plummer who were joint winners of the Best Actor Awards. Watch out for these rising stars.
Acts included: Shopping in an exclusive dress shop, having a bad reaction to eating pineapple at an All You Can Eat Pizza Restaurant, being at a 6-year-old's birthday party and someone gives her an apple as a birthday present, a wet Year 7 camp, a disastrous date, with the poignant message; "Never expect your husband pay for the dinner" and even a trip to the nursing home.
So, overall a marvellous lunchtime. It is an event that will go into the House Calendar for 2018, so we hope you can take part.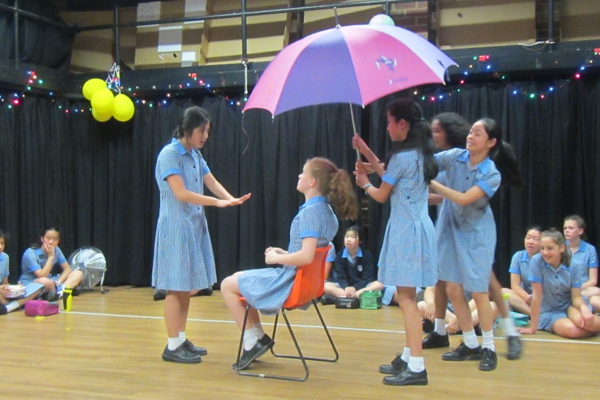 Thankyou vs. Australia – Year 7 Geography Incursion
Thankyou is an organisation which sells many different products; baby care, food, skin care. However, it started off as just a small non-profit organization, which sold water. Australians spend about $600 million on water bottles per year yet many people around the world, about one seventh of the human population, do not have access to safe, potable drinking water. So three people saw this as an opportunity to help those people, and these three young adults, fresh out of university with no job or previous experience whatsoever, became the founders of Thankyou.
Kalvin Hart is the younger brother of one of these founders. One day during school, back around 2011, he was assigned to a group project for a sort of lunch time market. When asked what he would do to help contribute to the project, he thought about it for a little bit, before he thought of an idea. So he ordered around one hundred bottles of the Thankyou water, and read up on the World Water Crisis. He became inspired, and now he works for Thankyou water alongside his older sister.
Thankyou has become very successful. It started off with multiple bumps, three huge setbacks meant that it started off with hardly any customers. It had two product recalls when it tried to launch its water, and in 2011 was almost shut down, selling at only fifty stores across the whole of Australia. Yet, its support has grown. By how much, they didn't know until they held a campaign to try and have their supporters convince 7Eleven that they should sell Thankyou water in all their chains across Australia. Now, it sells in not only 7Eleven, but Coles and Woolworths too.
A small idea turned into a life-changing product. Kalvin told us that over 750,000 people have had their lives changed all thanks to Thankyou, whether it be via food, water or sanitation. So now, all that's left to say is thank you, Thankyou, for changing lives for disadvantaged people all over the world and inspiring others to do the same. ~ Alex Polatsidis, Year 7
Boroondara Literary Awards
On 31 November the Boroondara Literary Awards night was held at the Hawthorn Town Hall.
This year, there were 1,160 entries across the 2 categories: Prose and Poetry. Each category invites students in the Boroondara area to submit short stories or poems in 3 divisions – Junior, Intermediate and Senior.
Annie Zhang from my Year 12 Literature class was announced as winner of both the 1st and 2nd prizes in the Senior Prose section; quite an accolade. The presenter remarked that it was highly unusual for one student to take out both prizes, but assured the audience that all submissions were marked 'blind' and fairly by the judging panel, which was also surprised to learn that they had awarded 1st and 2nd prizes to the same student. I wasn't surprised at all, as Annie is an exceptionally talented writer.
Annie wasn't in the audience and so I had the pleasure of accepting the awards on her behalf. Both of Annie's stories, 'Mother' (2nd prize) and 'Doppleganger' (1st prize) have been published in the Boroondara Literary Awards (hard copy) anthology. ~ Toni Vernon, English Teacher
CGGS Swim Club – Casual Employment Opportunity
With our very own CCGS Aquatic Swim School now in full operation, we are inviting expressions of interest from CGGS students to become casual Learn to Swim Teachers.  In order to be eligible you will need to be aged at least 16.5 years prior to 30 December 2017.
A copy of the Expression of Interest outlining the Key Selection Criteria can be viewed here and applications must be received by 4.00pm on Friday 15 December.
Netball 2017 Roundup
Firstly, I would like to congratulate and thank all the players, umpires, coaches, parents and families for their support and effort this year. It's been a wonderful year and all our teams had some success.
Year 7 Gold have persevered through some tough games and had some success, although Koonung Firebirds were too good in their final round. Year 7 Diamonds had a successful second half of the year and they finished second in Spring Fling. Year 7 Aquamarines are a very zippy team, some passages of play are too quick for their opposition. The CGGS team were up against a strong competition but were too good, defeating the Zebras. Year 7 Amber have outplayed many teams this year, they have gelled very nicely as a team but Strathcona Sharks took the final win.
Year 8 Turquoise won and ended up third on the Spring Fling ladder. Year 8 Gems won the first three games and have learnt a lot playing tough opposition and finishing second on ladder.
Year 9 Tanzanites went down to CSNC Lasers but have played some fantastic games throughout the year. Year 9 Emeralds have demonstrated fantastic skills, although MLC Orange were too strong and Emeralds finished in second place.
Year 10 Moonstones had a slow start to their final game, but finished the game well. Year 10 Amethysts also had a slow start to the game but they turned it on in the last quarter to draw against Ruyton Rockets. Year 11 Quartz have played great games as a team this year, the game was very close and they drew to Strathcona Allstars 13-13. Lastly, Year 11 Rubies have had a terrific Spring Fling season, where they played off for first and second place, but unfortunately went down to an undefeated team.
Congratulations to all teams on their efforts this year.
I hope everyone enjoys the holidays and has a wonderful Christmas and New Year. ~ Lexie Joyce
Victorian Cricket Leadership Excursion
Last Monday, Emily Arvidsson and I went to Melbourne Girls College for the Cricket Victoria Leadership Forum. We attended workshops on leadership, mindfulness and even participated in a Pilates session. My favourite activity was listening to the panel of sports people present their personal stories. Belinda Clark, Rosie Webster, and Isabella Dymalovkski answered all our questions about leadership and I found their answers inspiring, as we heard about how each person overcame challenges to achieve their best. This opened my eyes and inspired a spark of passion. The most important thing I've learnt is to have balance in your life and practise to your best ability but also recognise when your battery is low and you need to relax. ~ Isabel D'Souza, Year 7
GSV Sport Finals – Water Polo
Congratulations to the Junior Water Polo team who finished the season as zone winners and qualified for GSV Finals. The girls showed great determination and teamwork both at training and during matches, which contributed to their strong performance throughout the season.
Last Tuesday the girls played in an action packed Semi-Final, which saw them even with 5 goals each at the end of the game. Unfortunately, Siena scored a goal during extra time to narrowly defeat CGGS 6-5.
Thank you to Alex Parr for coaching the girls throughout this successful season.
I hope our Camberwell Girls families have a wonderful weekend.
Best Wishes,
Cathy Poyser
Deputy Principal/Head of Senior School
https://cggs-video.s3.ap-southeast-2.amazonaws.com/2017/12/Leadership6.jpg
400
600
cggs
https://cggs-video.s3.ap-southeast-2.amazonaws.com/2021/01/2021_Web_Logo_Cyan.png
cggs
2017-12-07 15:36:27
2018-01-11 08:54:40
Senior School