Senior School
As the final edition of CamNews for Term 2 it is important to note that all the students in Senior School have thoroughly embraced all the learning opportunities and experiences to challenge, extend and develop their whole person.
While I am currently in Italy with the 63 students and 6 other staff on European Music Tour, I want to extend my best wishes all the Senior School students and their families for a restful holiday and safe return to school on Tuesday 18 July.
Please take the time to also read my End of Term letter which was emailed yesterday.  This letter provides much information about the up-coming activities and events for Term 3. I strongly encourage all parents to ensure their daughters have plenty of relaxation and "down time" these holidays.
Pierre de Coubertin award
On International Olympic Day, 23 June, 188 Victorian Senior Secondary School students and State Sport Association athletes were acknowledged with the prestigious Pierre de Coubertin award.
Named after the founder of the Modern Olympic Games, the Pierre de Coubertin Award recognises students who demonstrate academic excellence and sporting prowess whilst exemplifying the Olympic values. Each award recipient must participate in sport and display the Olympic values, in particular, good sportsmanship.
It is with great pleasure that we announce the 2017 Camberwell Girls recipient of the Pierre de Coubertin award is Molly Ewens, Year 11.
Molly attended a program at the MCG last Friday with an Olympic Academy program throughout the day, with sessions hosted by past Olympians including swimmer Nicole Livingstone and target shooter Catherine Skinner.
In the afternoon Molly, joined by Liza Stevens and her parents, attended the presentation ceremony to receive her award. Congratulations Molly.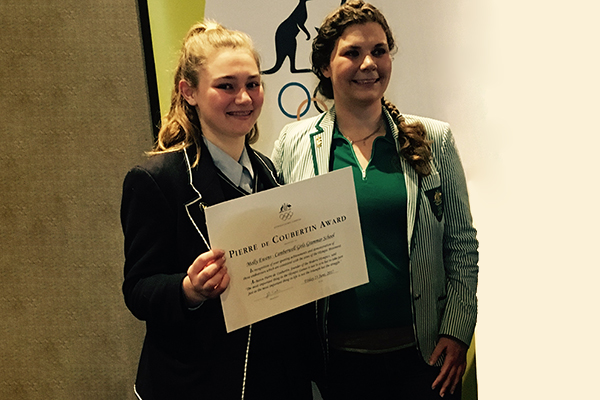 It's a True Story
It was only a matter of time before the musicians of Camberwell Girls would make their television debut. As fits of giddy excitement and a hope that Andy Lee might remember us or even speak to us came in overwhelming waves, we waited anxiously in a dark theatre for the looming question to be finally answered…would we make the cut?
In February, a small group of string players from Years 10 – 12 were offered a chance of a lifetime: to feature as extras in an episode which was to be a part of Hamish and Andy's newest TV show, True Story.  Obviously we were thrilled to take part in such an opportunity, so in the early hours of 9 February, we made our way to Camberwell Grammar School to commence filming.  We were set to be string players in a "youth orchestra", which would be mime-playing the music of Wagner's Ride of the Valkyries. Throughout the day we were treated like professional TV stars, with our very own hair and make-up artists, producers to explain to us how the industry operated, and most importantly, lavish banquets for both breakfast and lunch. At lunch we were not only treated to the best in Chinese takeaway dishes, but we even got to meet Hamish Blake and Andy Lee!  They were beyond lovely and genuinely down to earth gentlemen (not to mention much taller in real life!) and were willing to take as many photos with us as required for the ultimate Instagram post (which could only be posted after a period of "secrecy" before their show was released).  When we weren't filming, we had a lot of downtime to make new friends and meet the people involved with the show, such as Ryan Shelton and comedian Kitty Flanagan. Overall it was a fabulous experience.
After months of waiting in anticipation, we were invited to CGS to watch a preview of our episode, as well as a second episode that was shot at the Junior School. Andy talked about the experience producing the show, and thanked us all for helping them out, and then the lights were dimmed and it was our time to shine. So…did we make the cut or not? I guess you'll have to find out for yourself, when you tune in to True Story with Hamish and Andy at 7.30, 3 July on Channel 9. ~ Samantha Wong, Year 11
Year 10 Work Experience
Work Experience week gave all Year 10 students the opportunity to work in a profession in which they are interested. This valuable week enables students to experience the day-to-day life of a certain occupation, and a chance to learn about career ambitions in depth, and hands on.
Trish Dolan, the Careers Counsellor, introduced students to the concept of work experience in October 2016 when students were in Year 9. While June 2017 seemed a long way away, students were encouraged to seek placements early as some areas, particularly hospital/medical clinics and legal firms, are highly sought after in this week.  Students had some great experiences across these, and a wide range of other industries, including veterinary practices, aged care facilities, retail, health & fitness centres, dietetics, accounting firms, design, Amazon, Lonely Planet, animal biology facility, dentists, physiotherapy clinics, universities, theatre groups, global ICT firm, child care & primary education, architectural & building construction firms. Employers' evaluations were overwhelmingly positive with many commenting on the terrific work ethic of the students, their maturity, courtesy, willingness to ask questions and the effort they made to fit into busy, and unfamiliar, workplaces. The students thoroughly enjoyed their placements and this is another venture in the '#myfuture' scheme which will help them with their decision making for their future.
On their return from camp, students will have the opportunity to reflect on what they have gained from this experience. Work Experience week is designed to be exciting and informative, with experienced people offering insights to a number of different professions.  Well done to all our Year 10 students, to the many staff who made visits to the students during the week and to Trish Dolan for her assistance to ensure every student has a suitable placement. I am sure all parents would agree that the Careers information Trish Dolan sends out each week to students and parents alike is an invaluable resource.
Year 10 Mentoring Breakfast
The final Year 10 mentoring breakfast was held on Wednesday in Robinson Hall. The theme 'Making Decisions' was designed to encourage our Year 10 students to consider their choices over the forthcoming weeks regarding their VCE program. Lucy Goss (Class of 2016) and a current Year 12 student, Claudia Yuan, spoke to the girls about their experiences at Year 10 and how the decisions they made guided them to their subject/course choices. They talked about the value of choosing subjects that you really like, and in which you are genuinely interested. After undertaking work experience in Year 10 with Leighton Contractors, Lucy researched courses across architecture, engineering and science. Her VCE program reflected her interest in these areas and her excellent VCE results were achieved because she genuinely loved her selected subjects.  Lucy said it was no hardship to open those books in the evening and study. She is currently studying a double degree of Engineering/Science at Monash University.
Claudia talked about her decision to change subjects during Year 11 and how important it is to recognise what works for you and what does not. She suggested a positive experience during the VCE was possible by steady work habits, good sleep patterns and achieving an appropriate balance between a social life and academic demands.  Claudia provided a number of useful tips for a successful transition to the VCE.
They speakers were interesting and entertaining and the students were captivated by their lively presentations. A big thank you to Cara Davey and the OGA who generously sponsored the delicious breakfast served to the students. A really enjoyable morning!
Enterprise Week
The recent Enterprise Week for Years 7 – 9 was a huge success, with girls across these year levels immersed in creative and enterprising learning programs for the full duration of each day. Amongst the highlights were:
– The Year 7 girls ideating and developing their inventions through to prototyping, marketing and sales phases of the Girls Invent program.  Thanks to Dr Mark Glazebrook for providing inspiration and assistance during the week and for organising a videoconference for the Year 7 girls with a group of female lawyers based in Sydney who specialise in Intellectual Property and Copyright Law.
– All Year 8 students developed recycling projects for waste minimisation, by targeting significant waste and sustainability problems at local, national and global levels.
– Year 9 students enjoyed a week of enterprising learning at the One Roof Co-Working Space for female entrepreneurs. Thanks to Kate Giles and Sheree Rubenstein (CEO One Roof) for coordinating such inspiring workshops for the students.
Finally, the culmination of the Enterprise Week learning was an Enterprise Exhibition where girls from Years 7 and 8 displayed their prototypes and solutions throughout the Anne Feehan Building for all students and staff to admire and provide constructive feedback on.
Indigenous Literacy Foundation
Ali Larkey, Head of Commerce and one of the teachers leading the Reconciliation team, received an email from the Indigenous Literacy Foundation outlining how donations such as those Camberwell Girls have made this year have helped Close the Gap in Indigenous Literacy in remote communities. CEO of the Indigenous Literacy Foundation, Karen Williams, sent Camberwell Girls an email thanking us most sincerely for our contributions and noting how very special for the children to have these books as they are so very rare in these communities. So far the monies raised have purchased approximately 500 books to help Close the Gap in Indigenous literacy rates.
2017 is not over yet and there's more opportunity to provide books so come along in Term 3 to support the Great Book Swap in the Camberwell Girls Library and sign up in Term 4 for the Colour Run (Team Close the Gap) and let's see how many books we can fund by end of year. Thanks for your support. ~ The Reconciliation Team
Day for Girls Kits –  Cambodia
Last September on the Cambodia Immersion trip were introduced to the Days for Girls kits though the Green Gecko Project.
Days for Girls is an organisation that makes, educates and distributes feminine hygiene packs in developing countries. These washable packs allow girls to stay in school when they have their period, something we consider a basic right. The organisation is dedicated to creating a more free, dignified, and educated world, through providing lasting access to feminine hygiene solutions and health education.
On Wednesday 28 June a local sewing group (Days for Girls Camberwell Chapter) helped our students make Days for Girls kits in the Senior School Maker Space. Thirteen local women worked alongside our students on 'task stations' to pin, sew and finish the drawstring bags used to hold the kit components.  The students and staff going to Cambodia in September this year will take around 100 of these kits with them and to distribute in Cambodia.
This project enhances the tangible way that we live out or school motto- Useful in Service. We raised money, made the components and will deliver to those in need.
We are seeking donations of girl's underwear in sizes 8-10 and 10-12, to form part of these kits. Regular coloured bikini briefs are preferred; no boy leg, not silky, not lacy or white. There is a box at Senior School reception for donations. These will be collected till mid Term 3. Thank you in advance. ~ Liss Campbell, Head of Service Learning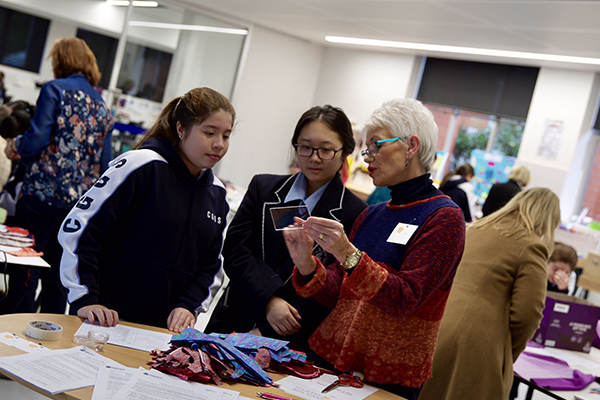 Music Tour 2017
The final Europe Music Tour Rehearsal Day was held at Camberwell Girls on Sunday 18 June. 63 students were involved in a full day of rehearsals across five specially-formed Tour ensembles – Tour Band, Tour Choir, Tour Specialist Choir, Tour Orchestra and Tour Strings. After a long and productive day of music making, students treated their families to a Farewell Concert. Selected items from the Tour repertoire were performed by all ensembles.
After a final briefing and delivery of final details, students were delighted and excited to receive their personalised Music Tour satchels, containing the specially designed Tour top, music folder, luggage tags and essential tools for the upcoming workshops. Touring students and their families left with their complete Tour itinerary and final checklists ready for departure on Wednesday morning.
On Wednesday morning teachers and staff were joined by farewelling families at Junior School. Excitement levels were high as last minute items were checked and final goodbyes shared between families.
We look forward to sharing many stories with up on our return, but for now I would also like to make a special thank you, as a lot of work went on behind the scenes to see our group departing from Tullamarine Airport and the beginning of our journey. While many staff were involved in the planning, I would especially like to thank Andrea Wood in Student Services and Nareen Robinson as they worked tirelessly over the last few weeks to ensure that all paperwork was received, copied, registered, an essential part of a successful tour.
Year 10 Camp
June 19 – 23 saw the Year 10 cohort excitedly gather in Norway Reserve to venture to varying challenging camps for the week.  One group started in Coranderrk Bushland Reserve learning about the Indigenous History of the area before paddling down the Yarra River and cycling into Camberwell Girls on the Friday. Others paddled the Yarra before learning some sailing at Mornington Yacht Club and Sea Kayaking in Western Port Bay as a journey. Horse Riding and Actively Mindful camps based themselves at UC Merricks whilst immersing themselves in their chosen activities, all the while knowing that if any first aid incidents occurred, they would be well looked after by the group completing their 'Remote Area First Aid' qualification. Finally, an adventurous few spent the week learning the spiritual connection of climbing Mt Arapiles. I would like to thank Ben Jenkinson, Hannah Simon, Eleanor Wood, Lara Banerji, Hayden Gyles, Scarlett Zhang, Kim Perkins, Duncan Reid, Hugh P, Ali D, Mark Barnett, Nirvana Watkins and Nareen Robinson for their assistance in running these camps. Short reflections written by the students about some of the camps are below. ~ Shane Maycock, Outdoor Education Coordinator
Year 8 Medieval Day
On Tuesday last week all Year 8 students participated in a series of hands-on learning activities run by experts in medieval history. Students played medieval games, put witches on trial, tried their hand at archery, and tried out the armour and weapons of medieval warriors. Several brave volunteers even tried their hand at attacking a fully armed and armoured medieval knight – and discovered exactly how dangerous and tough life in the Middle Ages would have been! The day helped bring to life the history the girls had been discussing in the classroom.
Many thanks to Ian Lyell, Head of History and all the Year 8 History teachers for organising this day.
Year 9 Drama Elective
The scene is a local village of animals in the teeming metropolis of a large jungle.  It's more rainforest than savannah and poetic licence is used. The animals are like the inhabitants of any town or suburb.  They have their problems, their good and bad days. Some animals have discovered that certain species of plants and humans are either extinct or very nearly so. They inform their neighbours. But some animals have other, more pressing problems. There's local politics, the demise of traditional habits and unemployed youth.  The climax occurs when a circus comes to town. A circus which has humans as performers.  There's sabotage, anger, danger, disagreements, reconciliation and ignorance. Sound like your place? But all's well that ends well. It's a friendly finish, or is it?
The Year 9 students performed to a select audience of staff and students who all laughed heartily throughout. Well done girls on your excellent production.
Year 9 Short Stories
As part of the Year 9 Unit of Study on 'Short Stories', students were given the opportunity to create their own narrative. The topic was open-ended, the only parameters being that structural features of a narrative short story needed to be clear. In other words, tension needed to develop across the story, from the initial orientation, to the climax and finally the resolution. The students were encouraged to be bold and adventurous in order to shatter the expectations of their reader.
We are happy to share here a story by Saoly Nguyen.
Year 11 Biology Class visits the Werribee Open Range Zoo
On Monday 19 June, the Year 11 Biology classes visited Werribee Open Range Zoo. We went on an educational safari ride and saw many animals including giraffes, rhinos and zebras. We also spent time with the zoo keepers and learnt about the capture and release programme of the Eastern Barred Bandicoot, organised and coordinated by Zoos Victoria. We completed quadrat surveys of the release site and uploaded our results to the zoo's ongoing online data collection platform. This data contributes towards the information collated by the zoo to inform the most suitable conditions needed for the survival of the Bandicoots. This excursion was essential for us in order to complete our Unit 1 Area of Study 3 Outcome. Thank you Georgina Bonnington and Helen Pappas for organising this excursion. ~ Alanna Chew Lee
Year 8 Video Conference
Year 8 Geography students participated in a highly informative video conference with Senior Scientists from GeoScience Australia on the topics of earthquake monitoring and tsunamis.
The students not only learnt about how tsunamis are formed but also how Australia participates in a world-wide collaboration, monitoring seismic activity and providing alerts and warning to populations that may be potentially affected.
Netball Program
The CGGS Netball Program was fortunate enough to have Shae Brown, the Collingwood Magpies mid court player train girls from Years 4 – 9. Shae competes in the new SUNCORP Super Netball League for the Collingwood Magpies, having previously played for West Coast Fever and the Melbourne Kestrels. The girls were very eager to meet Shae and were all pleased to have her demonstrate some drills and give direct feedback during the training session. This was followed by a Q&A session with Shae.
Thank you to our CGGS Saturday Netball Coordinator, Lexie Joyce for arranging this special session.
Netball Umpiring
Claudia Yuan, Molly Ewens, Emma Sanders and Veda Surapaneni have all recently achieved their C Badge in Netball umpiring. These girls have been working extremely hard to achieve this status and should be congratulated on their qualification. Well done girls.
With my best wishes for the holidays.
Cathy Poyser
Deputy Principal / Head of Senior School
https://cggs-video.s3.ap-southeast-2.amazonaws.com/2017/06/SS141.jpg
400
600
cggs
https://cggs-video.s3.ap-southeast-2.amazonaws.com/2021/01/2021_Web_Logo_Cyan.png
cggs
2017-06-30 10:15:55
2017-06-30 11:18:38
Senior School