Senior School
We have certainly had a very full and exciting end to Term 1. The last few weeks of term have included many wonderful activities for our students to be involved in, but also opportunities for our families and wider community to share in their accomplishments.
This newsletter is a bumper edition for Senior School with House Dance and Cabaret Night, a number of Service Learning initiatives including Relay for Life, Dream Stitches and Eat Up, highlights from our Science Department and Fitness Camp, to name but a few.
A highlight this week was a visit from Hugh Evans, co-founder of Oaktree Foundation and Global Citizen. Hugh's interest in humanitarian causes began as a 14-year-old when he travelled to the Philippines on an overseas trip as a student. The harsh realities of life faced by so many Filipinos has inspired Hugh in his work since the early 2000s. Hugh spent a full day at Camberwell Girls, meeting with staff and students, presenting and responding to questions.
In the evening, Hugh presented to our community on being a Global Citizen in relation to the UN Global Goals in a conversation with one of our English teachers, Toni Vernon. In some ways Hugh's story came full circle in that moment as Toni had taught Hugh as a Year 7 student.
I would like to take this opportunity to acknowledge all the students and staff in the Senior School for their contribution to making Term 1 such a great start to the 2017 school year. In particular, I wish to thank Mrs Liss Campbell, who in her new role as Head of Service Learning has organised and conducted so many activities for our students to explore and think about how they can really make a difference in the lives of others less fortunate.
Interim Reports
The Years 7 – 12 interim reports will be available online through SEQTA by Friday afternoon. These interim reports, combined with the continuous feedback provided within SEQTA from subject teachers, provide important information for students and parents for the upcoming Learning Conversations.
House Dance
Another stellar evening of entertainment was provided by our 2017 House Dance Captains – tackling themes of growing up, grief, self-confidence and Girl Power.
Our Captains worked tirelessly throughout Term One to choreograph pieces for three different categories: Theme, Solo/Duo and Ensemble.
Negotiating time commitments, working with a budget, planning technical aspects in collaboration with their Technical Captains were all part of their job description alongside creating and teaching their own personal choreography. Our congratulations go out to all of the students involved and a special thank you to previous Dance Captains who guided and mentored this year's leaders.
Award winners as commended by our adjudicator Rob McCredie (Co-artistic Director of fLiNG Physical Theatre):
Theme
Schofield and Lawrence House
Solo
Ashleigh Cheung (Lawrence House)
Technical Assistance
Lizzie Heap and Tatjana Skabar (Schofield)
Group
Lawrence House
Cup
Breaking a long standing dry spell in House Dance: Lawrence House – Captain, Minami Sakaida
Thank you to our wonderfully warm and generous hosts, Catherine Au and Laura Cookson and to Mrs Jenine Caruso for her backstage co-ordination and support throughout the whole process. A special thanks to Ms Lyons for her constant presence, offering guidance and support to ensure all Captains were able to guide their houses to achieving their best.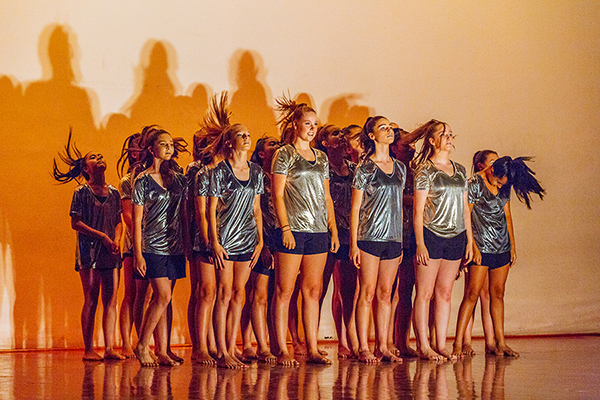 Cabaret Night
What a night it was, after much work, commitment by staff and students morning, noon, night and into the weekends, last night we enjoyed the 2017 Cabaret Evening in Barbara Sutton Hall.
Overflowing beyond a full house, enthusiastic students performed to an appreciative audience.  The stage backdrop, together with table decorations of over 1,500 origami stars, set the theme for a Starry Starry Night.  
So early in the year, the performances were all to an excellent standard.  Particular mention should be made of the debut performances of the European Music Troup Groups, including the Tour Choir, Strings and Band.
Music Captains Kaitlin Pekin and Frances Lu were warm and engaging comperes for the evening.   Special thanks to our staff who supported students in achieving such wonderful performances: Kate Savige, Rohan Mack, Mat Duniam, Cathy Georgiev, Frederica Cunningham, Jacquie Tolhurst and Sarah Hillier.  Thanks also to Kim Perkins who was Technical Assistant.
Thank you to Jennifer Meachem, Director of Music, supported by Jane Scott, for another landmark musical evening.
Simpson Prize Competition
The Simpson Prize is a history competition which has a focus on the legacy of ANZAC, open to all Years 9 and 10 students in Australia.
I am delighted to confirm that for the second year in a row, a student from Camberwell Girls Grammar School, Katia Testarotta (Year 10), has been selected as the winner for Victoria in the 2017 Simpson Prize.
Many outstanding entries were submitted to the competition and Katia is to be congratulated on this fine achievement.
I am also happy to let you know that Sabrina Tse (Year 10) has been chosen as the Simpson Prize Competition runner-up in Victoria for 2017.
Both Sabrina and Katia attended a presentation ceremony at Parliament House, followed by a two-day program meeting with key leaders and visiting National sites in our Capital City.
In addition to this award, Katia will travel to the Western Front, France, from 16 – 30 April with other successful students from around Australia.
Fitness Camp
89 girls departed for this year's Fitness Camp to Phillip Island on 25 March. Shortly after arrival we commenced our first activity on the beach, testing our stamina with some beach relay sprints, finishing off with beach games. It was a great way to start off Fitness Camp, as everyone was able to get to know each other and enjoy the sun at the beach.
The following day we split off in our day time groups to participate in surfing, canoeing and crate stacking – a new addition to fitness camp and definitely a highlight of the camp. On the final day of fitness camp, we participated in yoga, body combat and mini games.
On Saturday night it was great to see everyone getting involved during the disco dress up activity night, we know that fitness camp will be one of the best annual camps of the year.
A special thanks to the teachers who gave their weekend for this camp and made it a special experience for all involved. Thank you Ms Woolcock, Ms Stevens, Mrs Robinson, Mrs Kleine, Ms Smith, Ms Supple, Mrs Bergamin and in particular to Ms Law for her thorough preparation of all the camp details.
Relay for Life
10 determined and compassionate students walked through the night with the help of 10 dedicated staff at the Hawthorn 'Relay for Life' on Saturday. The event ran overnight in support of Cancer Council, the leading independent funders of cancer research in Australia. This was our third year of participation in the event and the team spirit was strong with students wearing camo print for our theme, 'Warriors'.
At the start of the walkathon the team had raised over $600, proving that a small group of dedicated people can make a difference whether through finding sponsors or holding a small stall at House Dance. Add to that, monies raised by students who came in free dress yesterday an additional $640 was collected. If you would still like to contribute, donations can be made here.
Congratulations to the students involved: Tiffany Ho, Lucy Mulvahill, Mathilda Cleeland-Mellor, Harriet Gibson, Holly Mulvahill, Louise Zhang, Jacqueline Gu, Meg Kollmorgan, Mia Sieber and Jamila Wynn.
A big thank you also goes out to staff who gave up time during their weekend to support us and this worthy cause: Maxine Ewens, Anne Devenish, Kate Giles, Pamela Badoer, Eleanor Wood, Shane Maycock, Kim Waters, Paula Kolivas, Liss Campbell and Jane Cameron.
National Constitutional Convention
Earlier this month Janice Soo (Year 11) was one of 120 Year 11 and 12 students selected to participate in the 22nd National Schools Constitutional Convention, held at The Museum of Australian Democracy at Old Parliament House in Canberra from 15 – 17 March 2017.
The National Schools Constitutional Convention programme provides senior students with an opportunity to become better informed about how Australia's Constitution provides a democratic framework and encourages them to take an active interest in the operation of government. The topic of the 2017 Convention was 'Indigenous Australians and the Constitution' but more specifically the acknowledgement of the Aboriginal people in our Constitution.
Through listening to various keynote speakers such as Mark Yettica-Paulson, the Joint Campaign Director of Recognise, Arthur Alla, NSW finalist Young Australian of the Year 2017 or Unni Kløvstad, the Ambassador for the Embassy of Norway students had to finalise their decision through a mock referenda vote on whether to alter or add certain clauses to the Constitution.
Besides the discussion of the topic, throughout the program students had the privilege of meeting Her Excellency, Lady Cosgrove at Government House, meeting the Minister of Education and Training, the Honourable Simon Birmingham, visiting the New and Old Parliament House, the High Court, the Museum of Australian Democracy, and the National Archives of Australia where we saw the original Constitution and letters signed by Queen Elizabeth herself regarding the roles of the Governor General.
Janice would like to express her sincerest gratitude to Mrs Macaro for introducing this program to her and she recommends this event to all girls in Year 10 or above.
Under the Love Umbrella – Davina Bell's Book Launch
As well as working in the library at Camberwell Girls, I am also a children's author and on Thursday 16 March, the Senior School library hosted the launch of my latest picture book, Under the Love Umbrella. It was magic to have the Ormiston girls from ELC to Year 5, together in this beautiful space to welcome the book to the world. Rather than choosing a fellow writer or publishing professional to launch the book, I asked the Year 4s to do the honours as a thank-you for the help they have given me over the last year, brainstorming ideas and helping find solutions to sticky plot issues. They brought Love Umbrella to life, performing the words of the text as a play and then screening the world premiere of a marvellous short film they had made, interviewing Camberwell girls and staff about who was under their love umbrella. I was also able to give a sneak peek into the steps I took in making the book with my co-creator, illustrator Allison Colpoys.
Then came the dramatic climax: a donkey piñata that wouldn't explode, despite the best efforts of students and staff. This culminated in the brave attempts of Mrs Dunwoody, whose gallant bashes broke the hitting stick but not the donkey's back, which we eventually just tore open. Inside were 200 tiny cocktail umbrellas, and we raised them together to declare the book launched. This celebration of love felt particularly poignant and meaningful – a gesture of hope and connectedness in an uncertain world. It was a pleasure and a privilege to share the event with the school community, and thanks to all who were involved and came along.
I am lucky to be under the Camberwell Girls Love umbrella!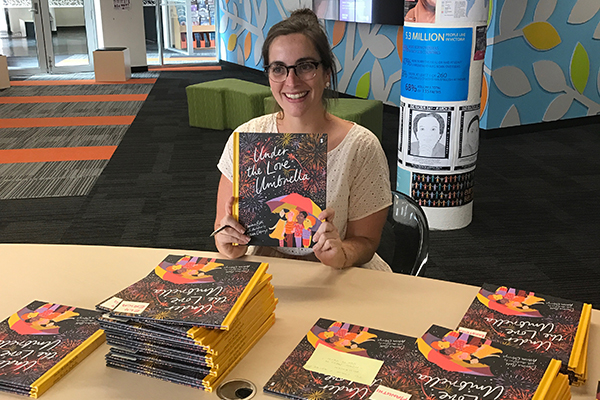 GSV Championship Swimming Carnival
Last Tuesday was a great day for Camberwell Girls at the GSV 2017 Swim Carnival, with amazing results throughout the morning from all of our students!
Encouragement was strong and it was wonderful to see everyone supporting each other. The day saw some excellent results, with Camberwell Girls placing 4th in Division 3 by only 1 and a half points! We also placed 5th for Seniors, 4th for Intermediates, and an incredible result for the Juniors with 1st overall (the last time Camberwell got this result was 15 years ago in 2002!) Not only did this represent an outstanding School results, but many personal bests were achieved throughout our group. In the upcoming Finals night on Tuesday next week we will be represented by 9 girls in two relays and five individual races. All of our swimmers should be very proud of what they have achieved in the pool, with support from our amazing coach Peter helping us every step of the way.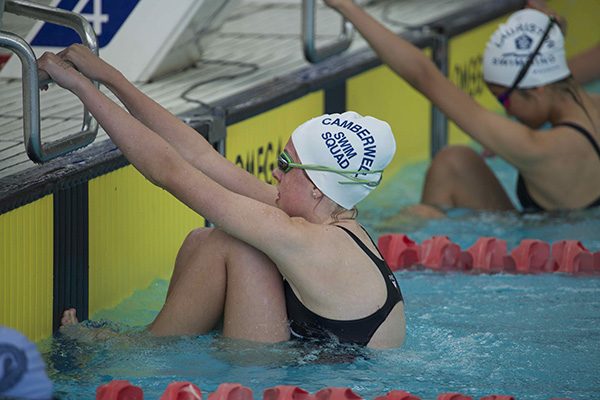 GSV Diving Competition
On Tuesday 21 March, the diving team participated in the Division 2 GSV competition held at MSAC. Camberwell Girls placed 3rd in the Junior competition, 5th in the Intermediate competition, 3rd in the Senior competition, and 5th overall. It was an outstanding day full of personal achievements, as well as fantastic performances by all the girls. A special congratulations to Ella Robinson in Year 7 who qualified for the GSV Diving Finals. All the girls should be extremely proud of their efforts throughout this term.
A huge thank you to all the coaches, and teachers who assisted and provided exceptional guidance to all the divers throughout the term, including Mrs Robinson, Mrs Meyenn, and Coach Morgan. ~ Yasmin Tawfik and Fearn Corney, Year 11
Year 7 Science
In Year 7 Science we are making qualitative and quantitative observations. In one of our experiments students have discovered how to suspend an egg in the middle of a beaker of water, using only salt and water. They have created two layers, which are demonstrated by the green fresh water layer, and the clear salt water layer. They observed that the egg will float on the salt water, and sink in fresh water!
Dream Stitches
Our Year 10 Service Learning activity Dream Stitches is now underway. The Dream Stitches program is a community-based program in Box Hill, sponsored by the Anglican Diocese of Melbourne as a response to the needs of recently arrived refugees from such places as Africa and the Middle East. The women are taught to sew garments for their families and to supplement their income, while at the same time being encouraged to develop their confidence and independence. Our Year 10 girls who have offered to be part of the roster this year, assist with minding the toddlers while their mothers undertake sewing classes. Our first two volunteers were Sharon Truong and Emma Dunlop who thoroughly enjoyed interacting with the children and being part of this very worthwhile activity.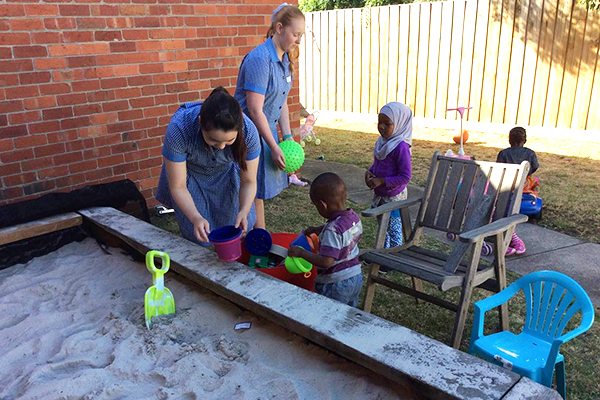 Dignity Drive
Thank you very much for joining us again in our April campaign.
Share the Dignity is an organisation that was formed just over two years ago, with the belief that no woman should suffer the indignity of choosing between eating, feeding her children or buying sanitary products; Access to sanitary items is a right, NOT a privilege.
In just over two years this vision has grown into a movement that is truly inspiring. Share the Dignity works with over 1100 volunteers and 2000 charities across Australia, bringing dignity to many women.
Our School community has embraced the challenge of supporting these women and so far we have collected 106 packets of sanitary pads and 45 boxes of tampons and it is not even April yet! Please do continue to give throughout April and let us support other women who are in need of our help for what we all consider basic daily needs.
Eat Up
It's hard to believe, but there are many young Australians who go to school each day without any lunch. Without food, concentration is difficult, which means learning is compromised.
With the support of volunteers, Eat Up provides lunches to school students throughout Melbourne who would normally go to school without lunch.
On Tuesday 21 March, Year 9 students made over 600 sandwiches to help students around Victoria who would otherwise have gone without lunch that day. It was great seeing the girls so engaged and enthusiastic and I hope they are all proud of helping other students who may often go without. We were so impressed with the care and effort they put into making the sandwiches, in addition to the fact that most stayed into their lunch break to help finish up.
Australian Music Examinations Board Conferring of Diplomas Ceremony
In addition to academic pursuits many of our students pursue musical studies alongside and are doing so to a very high level. At the recent AMEB Awards Ceremony in Wilson Hall at Melbourne University a number of our students were recognised with Diplomas and awards.
Chloe Law, Year 7, achieved her Associate Diploma (AMusA) for Cello. This Diploma recognises that Chloe has studied Cello from Preliminary Level and up through to (and beyond) Grade 8 and the Theory of Music to Grade 5. Her additional practical and theoretical studies have expanded her performance skills and musical knowledge. Her outstanding examination result has been acknowledged by achieving the Associate Diploma in Music.
Chloe is a member of the Middle School Choir, Russell Strings, Irish Band, Senior Strings and the Symphony Orchestra, she will also be part of the European Music Tour.
Kathy Han, Year 9, achieved her Licentiate Diploma (LMusA) for Violin. In 2015, she was awarded her Associate Diploma (AMusA) for Violin. In addition, Kathy has now been awarded her Licentiate Diploma. The Licentiate Diploma is one of the highest qualifications offered by the AMEB.
Kathy is a member of Senior Strings, String Quartet and the Symphony Orchestra. Kathy will also be part of the European Music Tour.
This week at Senior School assembly, Emily Wu Year 7, performed a solo piano piece 'General Lavine' by Claude Debussy to a warm reception. At the AMEB Awards evening Emily received special recognition being awarded the 'Elizabeth Stainkamph Memorial Prize'. This prize is awarded to the candidate who has achieved the best combined result in Grade 5 Theory and Grade 8 Piano.
In addition to her piano commitments, Emily performs in Middle School Choir as well as performing her second instrument, the cello, in Russell Strings, a String Quartet and Symphony Orchestra.
It must be noted that these are extraordinary achievements for students in Years 7 and 9. These awards reflect many years of conscientious commitment and ongoing practice and performance to an exceptionally high level. The girls are all commended for their dedication and passion in the field of Music.
Chromo Noodles
As a biology teacher, cell biology is a difficult concept to make practical; peering down a microscope in the hope of glimpsing some of the activity there can be variable at best. At the centre of the cell is the elusive DNA molecule, but without the ability to see it, it can be hard to make sense of its size or importance. Historically biology teachers have asked students to cut and paste tiny versions of the 46 chromosomes to put together a picture of what human DNA looks like. This would inevitably end in tears of frustration as a student turns a fan on and discovers their painstakingly meticulous cutting turns into classroom confetti.
In step the chromo-noodles! The race was on as two groups of Unit 3&4 Biologists scrambled to sort out the giant DNA puzzle in the quadrangle. Stepping in the shoes of Joe Hin Tjio the girls had to sort out the 46 human chromosomes and come up with a classification system to help simplify such a complicated genetic puzzle. After battling with the wind the girls exhibited their excellent inquiry skills and came up with the same set of rules that were decided upon by Tijo in 1955; all without a pair of scissors or glue in sight. We then discussed the differences between males and females as well as some common chromosomal disorders. It was fabulous to see the girls outside of the classroom, learning about science and enjoying what has historically been quite a bland topic to discuss. A job well done by a group of dedicated and passionate biologists!
Junior Softball
On Thursday 23 March, the Junior Softball A-team competed in the GSV Finals at Waverley Softball Grounds in Jells Park. The team had shown great fighting spirit throughout the season after an initial loss in Round 1 against OLMC to beat all the other schools in their division and qualify for the A-Division Finals Competition. The match against Ruyton was hard fought and unfortunately Camberwell Girls lost the game 23-7. It was a great experience to be a part of the team and all the girls found it enjoyable, rewarding and improved their softball skills throughout the term. A thank you to Girls Sport Victoria for organising the event and Ms Stevens and Mrs Robinson for all their help with the team this term.
Duke of Edinburgh
We congratulate Josephine La (Year 10), Lucy Bartram (Year 10) and Leah Atalalis (Year 11) on receiving their Bronze Duke of Edinburgh Award. The award is recognition for all their hard work, dedication and service to their endeavours and to their community. These students have now progressed to the Silver Duke of Edinburgh award.
Years 10 & 11 Children's and Magistrates Court Excursion
Year 10 Commerce and Year 11 Legal Studies students were addressed by a Victorian Children's Court Magistrate and witness to hearings in both the Children's and Melbourne Magistrates Court on Thursday this week.
Magistrate of 9 years, Jane Gibson, gave students a fascinating insight into both the workings of the Children's Court as well as her own journey to Magistracy before students were able to rotate between courts to see cases being heard and outcomes determined. 
Students then sat in on cases in the Melbourne Magistrates Court where they were able to consider the difference between the sentencing principles of rehabilitation in the Children's Court with those of the adult court where sentencing principles seek to appropriately punish offenders.
Cases ranged from petty to extremely serious and gave students a first-hand experience of not only the workings of the judiciary process but also of the range of socio-economic factors influencing behaviour in our society.
With my best wishes for a safe and relaxing holiday.
Cathy Poyser
Deputy Principal / Head of Senior School
https://cggs-video.s3.ap-southeast-2.amazonaws.com/2017/03/SS25.jpg
400
600
cggs
https://cggs-video.s3.ap-southeast-2.amazonaws.com/2021/01/2021_Web_Logo_Cyan.png
cggs
2017-03-31 11:10:41
2017-03-31 12:49:22
Senior School