Senior School
The energy levels are high around the School with students becoming familiar with their new teachers and their subjects and also participating in the co-curricular activities on offer. It is particularly pleasing to note the enthusiasm of our Year 7s, the newest students to Senior School. Studies show that students who are involved in a range of co-curricular activities, in addition to their academic pursuits, are stronger performers. Feeling engaged with and a part of the School community offers benefits on many levels and it is something we strongly promote to all our students. I would ask that you discuss the opportunities available to your daughters and assist them in managing their co-curricular activities in light of all their commitments.
Paul Dillon Seminar
For the past few years we have welcomed internationally recognised speaker, Paul Dillon to Camberwell Girls to talk to our students, staff and parents on the topic of 'Drugs and Alcohol'. This year Paul spoke to the Years 10, 11 and 12 students in separate age appropriate sessions. As a School we feel strongly that the messages of how to stay safe and look after friends needs to be addressed frequently and professionally. Paul is an enthusiastic speaker. While students are engaged and gain so much from his presentations, as educators his talks are equally as informative, as his knowledge of the topic is so current. Please speak to your daughters about the presentation, as it is important that you are aware of what your daughters took away from the address on this most important topic.
Student Exchange Programs
Each year, Camberwell Girls offers a range of Student Exchange Programs to its students. These programs are dynamic and constantly changing. In 2017 we have some new and exciting opportunities for Camberwell girls to be involved in. Either as a reciprocal hosting arrangement, solely hosting a student from another school/country, or solely participating in an exchange program and not hosting. Ideally all exchanges would be reciprocal, however, we understand some circumstances do not allow for this.
Currently we have two exchange students with us from Germany. Hanna Strerath is being hosted by Matilda Kutey (Year 10) and her family. Lilia Syemushyn is staying with Laura Smythe (Year 11) and her family. The girls will be staying until 22 April and we look forward to hearing more about their experience later in the term.
Students who are considering an exchange program are asked to attend one of the following information sessions to gain further understanding of the process:
Years 8 & 9 – Tuesday February 21
12:30pm in Room W107
Years 10 & 11 – Thursday February 23
12:30pm in Room W107
Students will receive information at these sessions to discuss with their parents and an expression of interest form to return to Mr Shane Maycock, the School's Education Outdoors Coordinator.
Maths Support Group
Starting this week and as outlined at the recent Parent Information Evenings, a Maths Support Group will be operating in the Library from 7.30am on a Monday morning and 3.30pm on a Friday afternoon. These support sessions provide students with the perfect avenue to ask questions of and seek assistance from Camberwell Girls maths teachers. Please do speak to and encourage your daughter to attend these sessions as they are available and on offer to all Senior School students.
Duke of Edinburgh
Two students have recently achieved milestones in their Duke of Edinburgh Award commitments.
With sustained commitment over three years, Zoe Tang-Chong (Year 12) has completed her Gold Duke of Edinburgh's Award. Congratulations Zoe!
We also congratulate Isabella Lincke (Year 10) on receiving her Bronze Duke of Edinburgh's Award.
Any students interested in working to achieve their own Duke of Edinburgh's Awards should contact Mr Mark Barnett via email barnettm@cggs.vic.edu.au  Mark works closely with girls on achieving their goals.
House Dance
For the past two weeks the House Dance Auditions have been underway and the 2017 House Dance Captains, Minami Sakaida, Olivia Benetton, Cindy Huynh and Katie Lutze are now preparing their lists prior to commencing the rehearsals. Please ensure you have Friday 24 March set aside in your diary as House Dance is always a colourful spectacle.
Triathlon
Triathlon is a new GSV sport for Camberwell Girls and it was exciting on Sunday to have three teams represent us at this event. This is a sport that is set to grow and I encourage all eager participants to speak to Ms Lauren Law, Head of Sport for all details of how to become involved.
On the unseasonably cold morning of Sunday 12 February, 11 Camberwell Girls were rugged up and ready to brace the unyielding wind and rain and compete in our first GSV Triathlon. Like most GSV events we were surrounded by familiar competing schools, along with individual participants from all age groups. The atmosphere of the event was infectious, and we couldn't help but cheer for every Camberwell girl.
For our first Triathlon, we were all anxious to race. Unfortunately, in the mini event, the swim was cancelled due to unsafe conditions. However, the girls still had a tough beach run up the hill to meet our cyclists who had to manoeuvre their bikes carefully along the slippery road. The runners had a flat run through Hampton and Sandringham with a strong headwind on the return loop. I think it is fair to say that the Camberwell Girls had a very successful first race, and all the girls that participated are excited for next year. We hope to see many more students participating in 2018. A huge thanks and shout out goes to Ms Law for organising us in this event and spending her very early Sunday morning getting us all ready and cheering us on! ~ Molly Ewens, Year 11

Theatrical Design Elective
A new elective for 2017, Theatrical Design has been a blast! Our study is the designing, planning and building of props and sets for theatrical productions. Our focus is on the musical 'You're A Good Man Charlie Brown' and we're assigned the task of choosing a prop from the musical and bringing it to life.
As part of the research, the class has studied the script, researched the Broadway production and even read and watched some of the old Charlie Brown comics and movies, in search of inspiration and guidance.
The task, however, is not to make an exact replica of the props from other productions, but to use our own creativity and theatrical knowledge to design the prop from our own interpretation of the script. This has been quite difficult and the task has awakened and tested our creative side and required us to think outside of the box.
There are also several areas which need to be satisfied by the finished product: it needs to be light so that we can easily carry it on and off of the stage, but it also has to be strong, in order to avoid an on-stage disaster. Each group has a budget of $100 to purchase any necessary materials and equipment. Soon we will be drilling, painting and sawing until we are happy with the final result!
This week, we were lucky enough to have a guest speaker come and talk to us in greater depth about design. Jacob Battista is a theatrical designer and draftsman at the Melbourne Theatre Company. He also designed the props and set for touring production of 'You're a Good Man Charlie Brown' in 2016. Jacob was very informative and gave us a clearer understanding of the role of a theatrical designer, teaching us about the design process and explaining with great detail the planning and research that goes into building and creating a world for the stage. I was shocked to learn about how much effort and time goes into making one prop alone. It is an incredibly difficult and demanding job. Jacob also emphasised the importance of being organised and knowing your measurements when making sets, as well as how to stay within one's budget.
The theatrical design class is a lot of fun. My knowledge about theatre is expanding and my creative and building skills are definitely improving. I am very glad that I chose this subject as my elective and highly recommended it to all year 7 students for next year. ~ Marianna Giavris, Year 8
Year 8/9 Music Elective Excursion
This week the Year 8/9 Music Elective class enjoyed an interactive excursion to The Arts Centre Melbourne. We participated in a contemporary music workshop located in 'The Channel', the Arts Centre's high tech recording studio and learning lab. The program for the day consisted of two themes, exploring the technology and musical techniques used to create contemporary music and film soundtracks. The remixing challenge enabled us to create our own unique composition, including beats, percussion, bass lines, chords and vocal melodies. My favourite task was the film-scoring composition, as we were able to create a complete soundtrack, including music and sound effects to accompany a short movie trailer. ~ Victoria Bruzek, Year 8
Badminton Australia
Year 12 student Chloe Chen, was proud to have been selected to represent Australia at the 2017 Oceania Junior Championships in Noumea, New Caledonia. Chloe has participated in matches this week and progressed to the Semi Finals where unfortunately she was outplayed by New Zealand's representative, Sally Fu.
Congratulations to Chloe, a fantastic personal effort in being chosen to represent Australia and perform at her best.
Chinese New Year
Last Thursday the Ormiston students joined us on the Senior School Parents and Friends Sportsfield to celebrate Chinese New Year and the Year of the Rooster.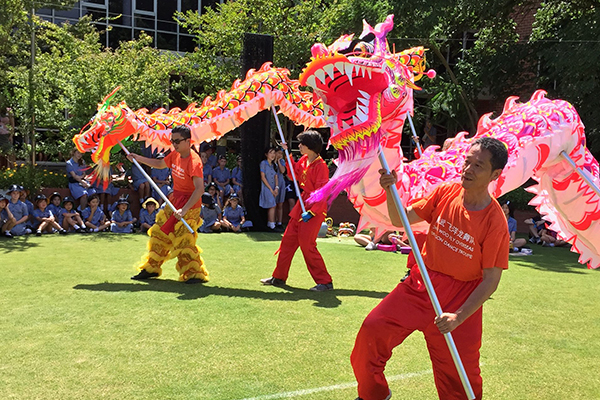 Parent Information Evenings
The Parent Information Evenings for Senior School have all now been conducted. For those parents who were able to attend, on this evenings we introduced the Year Level Coordinators, Form teachers and in the case of the VCE evening, all subject teachers.
Student Photographs
The 2017 individual student and Form photographs were taken last Wednesday and we look forward to sharing these with all families as soon as they are delivered to the School.
Emergency Evacuation Drill
As is essential at the start of each school year and at regular intervals throughout the year, the Senior School completed an Emergency Evacuation Drill last week. All new students are now well aware of what is expected in the case of an Emergency Evacuation. As a bell-less school it is very obvious when the evacuation bell sounds.
I hope all our families have a wonderful weekend.
With Best Wishes,
Cathy Poyser
Deputy Principal / Head of Senior School
https://cggs-video.s3.ap-southeast-2.amazonaws.com/2017/02/SS4.jpg
400
600
cggs
https://cggs-video.s3.ap-southeast-2.amazonaws.com/2021/01/2021_Web_Logo_Cyan.png
cggs
2017-02-17 09:10:00
2017-02-17 12:44:53
Senior School