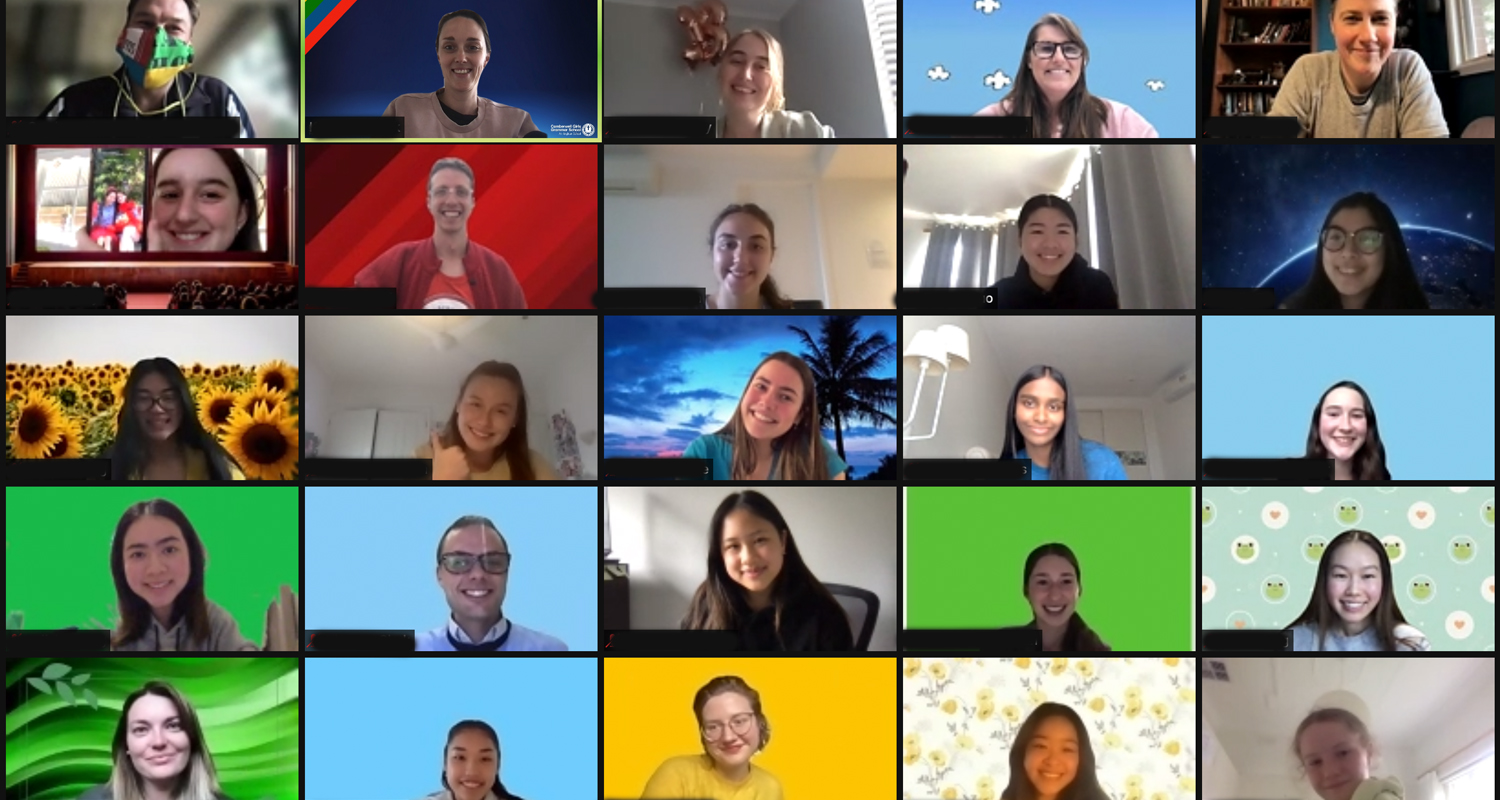 Senior School
Last night we celebrated the Years 10 – 12 students and their academic, citizenship and co-curricular achievements in our pre-recorded 2021 Presentation Evening. Congratulations to all our Academic Award recipients who were recognised for their excellence across all subjects at Years 10 and 11, or within individual Unit 3/4 subjects at Years 11 and 12. In 2021, our Citizenship Award recipients reflected the number of students, who during the course of the pandemic, have gone above and beyond to connect with their peers and students in other year levels. I also extend a huge thank you to all our 2021 School and House leaders who have led their portfolios magnificently throughout this year. Requiring a plan, A to Z to ensure their event could be conducted onsite or remotely and sometimes needing to switch between the two modes with a days' notice. On behalf of the student leaders, I also thank and acknowledge the support of their mentor teachers in each role.
There were many highlights and being able to once again share the House Dances from Term 1, House Music from Term 2, and some photographs from our House Athletics and Cross Country events showcased the enthusiasm and extensive contribution our students have been able to make to the co-curricular program of the school even during the pandemic.
The format we have used these past two years to ensure our Senior School community have been able to celebrate the year with us is also something we are incredibly proud of. I am very grateful to all our staff, both teaching and professional services who meticulously plan for this event and wish to recognise Mr Kim Perkins for his efforts in bringing it all to life.
Thanking the current School and House leaders and introducing the new leaders has also become a feature of our Presentation Night, and at this time I again extend my appreciation to all of the 2021 leaders and congratulate all of our 2022 leaders on their appointments. The leadership process at CGGS is one we can certainly be very proud of. It is rigorous and extensive, and many staff and current student leaders are involved in this process which has been developed and coordinated by Ms Kath Woolcock and Mr Shane Maycock. Thank you both for the leadership programs and opportunities you have created for our students.
We were also able to have our Celebration of Sport assembly, which can be viewed further down in this edition of CamNews. Congratulations to all our students who received awards and participated in our Sport programs throughout the year. We congratulate all the Year Level Champion recipients, Changemaker Award winners Belinda Lemanis and Cathy Gu, and our Sportswoman of the Year winner Isabella Tremewen.
Last week, our Year 9 students also enjoyed their final Seasonal Learning conference for this year, an incredible 'World of Work' CGGS Careers program that all Years 9s took part in. We were fortunate to have some of our parents, alumni and old Grammarians take part in this program. Thank you to all of those involved and for helping to create a wonderful opportunity for our students.
This week the Year 7 and 8 students took part in PROJECT ROCKIT, a workshop discussing respectful relationships and behaviours and empowering our students to stand up to bullying. We hope the students enjoyed these sessions and took away some valuable moments from the day.
Cathy Poyser
Deputy Principal / Head of Senior School
Duke of Edinburgh Awards
The Duke of Edinburgh's Award is an internationally recognised award with participants from over 130 countries. Over 8 million young people have participated worldwide. The award is open to anyone ages 14-24 in 3 different levels, Bronze, Silver and Gold. The program creates opportunities for young people to develop skills, get physically active, give service and experience adventure. The aim is to build valuable skills that will equip young people for life and work by committing to achieve goals over an extended period of time and reflecting upon the tasks used to achieve these goals. In coming CamNews releases, we would like to share with the CGGS community the achievements of past participants and how they have reflected upon their completion of the GOLD AWARD.
For further information regarding the Duke of Edinburgh Award, please contact Mr. Shane Maycock, Deputy Head of Senior School at maycocks@cggs.vic.edu.au
Zoe Giagoudakis
Was there anyone important to you in your DOE experience?
The people who were important in my Duke of Ed journey were the other girls that were also doing Duke of Ed with me. It was great to have someone to communicate with about how we were progressing with the program and what the lies in the future for us.
How would you improve your experience if you did it again?
I could improve my Duke of Ed journey by just being more up to date with logging my hours. Duke of Ed is a good way to improve your time management skills through continuously filling in your activity hours.
What would you tell someone just starting or thinking about DOE?
My advice to someone initially starting Duke of Ed would be to just give it a go because it's a really great opportunity to extend yourself and it's also a great thing for your resume.
Interview by Isabella Wood and Bella Fary
2021 Science Talent Search
This year, the Science Talent Search was Food: Different By Design. Students could choose to create a short story, board game, video or poster that explained some aspect of science, or to plan and conduct their own original experimental research. It was wonderful to witness the enthusiasm and energy that the students involved displayed over the course of the program, and the flexibility and perseverance that they showed when completing or modifying their projects due to remote learning.
Congratulations to all the students who participated in the Science Talent Search program this year. We are delighted to announce that three students were awarded Major Bursaries for their projects and 12 Minor Bursaries. There were a further 6 projects awarded Distinctions or Merits.
Students will be presented with their certificates at an assembly later this year, and those students who have been awarded a Bursary will be able to attend an online awards ceremony on Monday 8 November at school.
You can view all projects entered for judging attached below.
Penny Dumsday
Science Teacher
PYOE Competition 2021 – CGGS on the podium again!
The Plan Your Own Enterprise Competition (PYOE) is an annual opportunity run by Business Educators Australasia in conjunction with the Victorian Commercial Teachers Association, for students across Australia to create and submit a Business Plan based on a specified set of criteria. The competition is open to students of all ages but is dominated by students in Years 10 and 11, with approximately 1000 entries from students in these year levels received each year.
At CGGS, the PYOE competition forms part of the Year 9 Commerce curriculum with students having the option to submit the Business Plans they create as part of the 'Power and Enterprise' unit of study. Students can choose to work individually or as a group and each year we love reading about the ideas they come up with and encourage all students to throw their hat in the ring for the $1000 prize money up for grabs!
CGGS has an impressive track record of success with this competition having had group entries that have won the National Competition in three of the last 5 years. This year we are very proud to announce that Sophie Chang, Hannah Croft and Keona Siaw finished Runners Up in the group category for Victoria, with their business plan for 'Keikko,' a business selling customisable, environmentally conscious, home-delivered lunchbox cakes. Also, Izzie Wood finished third in the Individual category for Victoria with her business plan for 'Custom Cards,' a business selling customisable greeting cards via an online service.
These results are a fitting acknowledgement of the rigour our students apply to the execution of this task and are particularly impressive given the competition attracts entries from students undertaking Units 1 & 2 Business Management.
All our Year 9 students are to be congratulated for the work they put into their PYOE Business Plans this year. As well as providing a genuinely creative way for students to continue developing their communication, problem solving and time management skills, the diversity of ideas and clarity of expression presented in these plans made reading them a real pleasure.
We can't wait to see what ideas 2022 will bring!
Ali Larkey, Zenab Zavery, Chris Anton and Karoline Walter
Year 9 Commerce Team
Year 9 World of Work
The final Year 9 Seasonal Learning Conference took place last Thursday and Friday, on the theme of World of Work. An introduction to the CGGS Careers program, this conference delivered a range of experiences for the students as they worked from home.
We were delighted to begin this conference during the holidays with an official invitation and conference swag being delivered to the students at home. Partnering with two female led and owned companies, Write to Me and Myrtle and Moss, our conference packages provided not only some keepsakes but sustenance for the two days as well.
Click below to read on about what took place on Day One and Day Two of our World of Work program.
Kate Manners
Head of Strategic Initiatives
PROJECT ROCKIT
Each year, as part of the Wellbeing Program, CGGS hosts PROJECT ROCKIT to deliver their innovative and empathy-based workshops that discuss respectful relationships and respectful behaviour. PROJECT ROCKIT is Australia's youth-driven movement against bullying, hate and prejudice. Through online and face-to-face workshops, they empower school students to challenge anti-social behaviour, including bullying, by standing up for themselves and others. While we do not see bullying very often in our school community, the skills of being an upstander and empowering young people to make change at a societal level is an important goal.
On Monday 12 October, the Year 7 students took part in two online workshops: 'Looking out for each other online,' and 'Respect and Empathy'. These sessions aimed to create an online space where all young people have access to respect, acceptance, creative expression, and feel empowered to be themselves. Working through a series of videos, polls and questions, the presenters were able to engage the Year 7 students to lead positive change at school, online and beyond.
The Year 8 students heard from Lucy Thomas, the CEO and co-founder of PROJECT ROCKIT, as she delivered a keynote address that explored the benefits and challenges of social media, its role as a tool for connection and the power of kindness, integrity, and honesty in the way we communicate and respond to each other. Lucy provided six key strategies to promote digital wellbeing and digital safety including the importance of designing an online world that is meaningful for you, seeking and showing support, taking time off, being kind to yourself and standing together. These sessions form an important part of our wellbeing program and will be further explored as part of our Period 5 and Health curriculum throughout Term 4.
Kath Woolcock
Deputy Head of Senior School – Student Wellbeing
Celebration of Sport Assembly
The 2021 Celebration of Sport assembly was a wonderful opportunity to recognise the fantastic sporting achievements recorded over the past twelve months, including GSV Finals Evening participants, Changemaker Awards, Year Level Champions and Sportswoman of the Year. If you would like to watch the Celebration for Sport presentation, please use the following link.
We were also fortunate to have Australian Softballer, Jenny Holliday, as our guest speaker. Jenny represented Australia in three softball World Championships before playing in the sport's Olympic debut at Atlanta 1996. She helped Australia win the bronze medal, behind the United States and China. Jenny talks about how she overcame adversity to achieve her goal of being an Australian Softballer by training hard, being focused and having clear goals. She also touched on the importance of having the courage to try and surrounding yourself with great people to support you through your journey.
Another major award presented was the 2021 Australian Olympic Change-Maker award. This award recognises students who demonstrate sporting excellence whilst exemplifying the Olympic values. These recipients have demonstrated the Olympic spirit through leadership and driving positive change, whether it's through leading teams, coaching Juniors, or supporting Seniors. This award is celebrated nationally and hosted by the Victorian Olympic Council. This year we were very excited to announce Belinda Lemanis and Cathy Gu as the two recipients of the 2021 CGGS Olympic Change Maker Award.
The Year Level Champion award was presented to the student in each year level who contributed the most to sport at CGGS. This award took into consideration the number of sports each student has participated in, as well as their attitude, commitment to training, performance, leadership and level of improvement throughout the year.
The award winners are as follows:
The major award for the afternoon was the Sports Woman of the Year Award which recognised the student who had contributed the most to sport at CGGS across all year levels. This year the Sports Woman of the year has competed in Softball, Swimming, Diving, Cross Country, Water Polo, AFL, Athletics and Soccer and due to her attitude, commitment, leadership, improvement, and performance. The 2021 Sportswoman of the year was awarded to Isabella Tremewen.
Thank you to our 2021 Sports Captain, Cathy Gu and all the House Sports Captains – Lauren Bernabe, Nicole Ang, Emmelyn Choo-Lambropoulos, Annabel Plummer, Emma Peak, Charli Lincke, Ella Robinson and Ruvina Suriyapperuma for everything they have contributed to the sports program this year. Also, thank you to the PFA – Friends of Sport, all the staff, coaches, parents and students who have made 2021 sport possible. We look forward to seeing you all for an even bigger year of sport in 2022!
Lauren Law
Head of Sport
River Nile School and Learning Centre
Since 2008, CGGS has supported the work of River Nile, which was set up initially by the Anglican Parish of Footscray to teach English to Sudanese refugee and asylum seeker women. Since then, it has diversified its work to include any recent refugee or asylum seeker women, has relocated to North Melbourne, and been registered as a school to teach VCAL (Victorian Certificate of Applied Learning) classes. Prior to last year, our CGGS Year 9 students have made visits to River Nile in small groups on a voluntary roster basis throughout the year offering childcare or help in distributing food brought in from Foodbank Victoria. On occasions we have run our own food drives for River Nile, however none of these activities have been possible during 2020-2021. We have kept in touch and during Term 2 the River Nile teachers suggested a new way that we could help support them remotely, by our Year 9 students offering to be pen pals to some of their VCAL students. This would help their students with their English writing and comprehension.
We were thrilled when last term there was a call out for volunteers from our Year 9 cohort, just before the end of Term 3, and a number of our Year 9s were put in touch with two (or in one case, three) River Nile students. It's all very new, but we hope and look forward to some lively email exchanges.
Duncan Reid
Head of Religious Education
Videos for Change
Videos for Change is a way for young people to develop confidence, practice social advocacy, and build valuable 21st-century skills they need for a better future. This year, for the first time, CGGS was delighted to enter four teams of Year 10 students into the Videos for Change National Competition.
This competition required participants to create a one-minute video that shows empathy, builds awareness and inspires action. Although begun on campus, students have worked on their submissions almost exclusively whilst in lockdown. We are very proud of all four teams and delighted that two of these have been selected as national finalists. The videos 'Disconnected' by Scarlett Giang and Natalie Chung, and '#strideinyourstyle' by Salwa Saiba, Nektaria Toscas, Siena Yap, Salome Obeyesekere, Jaya Akritidis and May Du have made it to the finals in the Senior High School category for students in Year 10–12.
Their videos were selected from hundreds of submissions from across the country which went through two rounds of initial judging and are now sitting with a group of external judges with expertise in social media, mainstream media and film, and documentary making. In making the finals, these videos are also eligible for the People's Choice Award, where members of the public can view all of the finalists and cast votes towards their favourites. Voting will be held from Monday 18 – Monday 25 October, with winners being announced in November.
Please visit the link here to Videos for Change for more information on the competition and opportunity to support our students in the People's Choice Award.
Kate Manners
Head of Strategic Initiatives
National Youth Science Forum 2022
Congratulations to Bethany Orme and Harkee Judge who have been selected through an interview process to attend the National Youth Science Forum 2022 (NYSF). Access to this forum is highly prized by Year 12 science students nationally, so we are very proud that Bethany and Harkee have been given the opportunity to attend.
The NYSF is a 12-day program from 10-25 January 2022, which includes keynote speakers, lectures, hands-on workshops, debates, expos and enriching social activities. In-person STEM visit days and events are held over a week of the program at major city hubs across the country, enabling students to meet each other and network with like-minded peers. A continuous program of digital events will also run alongside the in-person events.
We wish Bethany and Harkee all the best for the forum and look forward to hearing all about their experiences on our return to school in 2022.
Di Wood
Acting Head of Science
Victorian Secondary Girls Chess Finals
With a consistent record of making State finals, CGGS once again fielded a strong team on Tuesday 12 October in the State finals of School Chess, having qualified earlier in the year. The online event saw Emily Lin, Bethany Orme, Kelly Ta (Year 11), Sophie Chang and Lucy Ciro (Year 9) compete via the chess.com platform.
Playing 7 matches each, with strict time pressure, they competed for over 4 hours. Camberwell Girls came in fourth – an excellent result demonstrating high levels of skill, concentration, and commitment.
With uncertain internet and some classes at school, Sophie and Emily competed from School, with Bethany, Kelly and Lucy logging in from their homes. The students missed some of the team feel of the event but were grateful that the finals went ahead, and they all enjoyed the experience.
Helen Pappas
Biology & Science Teacher
House Celebration
Today we had the opportunity to thank our 2021 captains, celebrate the house spirit shown by our community this year and induct our 2022 House leaders.
It was wonderful to see the colour and enthusiasm as over 400 students and teachers joined to celebrate the 2021 House program. A special mention to the 2021 House Captains Karen and Ella (Lawrence), Jess and Seanna (Singleton), Rachel and Claire (Schofield) and Chantelle and Aalisha (Taylor) and 2021 School House Captain Chloe Langley on their roles in supporting the school community this year.
Shame Maycock
Deputy Head of Senior School – Co-Curricular Programs
A final lesson on the power of language to the VCE German students
The trials and tribulations of learning a foreign language were celebrated with the endearing children's storybook "The Word Factory" (Die Wörterfabrik) in the final lesson for the Year 12 German students, who completed the oral component of their studies last week.
Anyone who has learned a foreign language will be able to identify with the inability to find that precise word or expression to convey meaning. However, communication can take many forms and in this charming book, people live in a country where words are a luxury. In this 'Land of the great Word Factory,' people must buy and swallow words in order to speak them. Words in this country are a luxury, reserved for the rich. So how can the boy named Paul show his love to Marie, when he cannot afford to buy words to show his love?  Fortunately, he has been lucky to find just that one meaningful word that he pulled from the rubbish bin to save their romance!
The students were left to reflect about the magic of words and language, and about how you say something is often more important than what you say. All the best wishes accompany them on their future endeavours!
Ingrid Beck
German Teacher
Virtual Education Outdoors
As published in last weeks Senior School Weekly, week 3 will see students participating in a Virtual Education Outdoors Adventure. Students have been sent a brief outline of the program with further details being sent Monday morning. The website students will access is https://virtualeducationoutdoors.weebly.com and is live for students and family to plan their week of adventure.
Shame Maycock
Deputy Head of Senior School – Co-Curricular Programs
https://cggs-video.s3.ap-southeast-2.amazonaws.com/2021/10/SS-FEATURE-copy.jpg
500
500
Georgia Bennett
https://cggs-video.s3.ap-southeast-2.amazonaws.com/2021/01/2021_Web_Logo_Cyan.png
Georgia Bennett
2021-10-15 17:20:01
2021-10-18 08:42:26
Senior School